Christie Brinkley has the charisma, the face and of course the body that took her to a high pedestal in the fashion world. Brinkley had her dazzling face and gorgeous body on CoverGirl magazine for 25 years. She is not only a model but also an actress and a successful businesswoman.
Christie is involved in a lot of activism for human and animal rights and has become an inspiration to women in business and entertainment through her story which is filled with surmounted challenges and hurdles. There is so much to learn from the life of the versatile figure and here, we have gathered lesser known facts about Christie Brinkley.
Christie Brinkley's Bio, Age
She was born Christine Lee Hudson on February 2, 1954, in Monroe Michigan, to her parents; Marjorie and Herbert Hudson. Her last name later changed to Brinkley after her mother married a second husband in the person of TV writer Donald Brinkley, in Los Angeles. Her mother had met the writer when they moved to the city. Brinkley attended Paul Revere Junior High School and also attended Le Lycée Français de Los Angeles. She then proceeded to Paris to take up a course in arts after high school.
Christie Brinkley had glitz and glam written all over her and it only took a little while before she was discovered by Errol Sawyer an American photographer in Paris. After taking her pictures, Sawyer linked her up with John Casablancas Elite Model Management in the capital. From there she was introduced to Eileen Ford, founder of one of the most reputable modeling agencies, Ford Models. These established contacts got Brinkley her first ad campaigns in California.
Her appearances in the campaigns drew lots of attention from showbiz stakeholders and Brinkley subsequently closed a deal with CoverGirl. Brinkley's contract with the brand which spanned 25 years became the longest modeling contract in history.
She also appeared on Sports Illustrated Swimsuit Issue covers and also on Sports Illustrated calendar. During her active days, Christie's face was seen on covers of over 500 magazines including reputable Vogue, Rolling Stonne, Esquire, Glamour, Cosmopolitan, and many others. She also tested waters in acting playing a role opposite Chevy Chase in the movie National Lampoon's Vacation (1983). She also appeared in the musical Chicago, a stage production.
Brinkley, who was considered to have the ideal American look of blond hair, blue eyes, and a slim figure was voted in 1998 as one of the 100 Sexiest Women of the 20th century. She was also named as one the 100 Hottest Women of all time by Men's Health in 2011.
Her Net Worth
Christie Brinkley garnered so much wealth during her modeling days and currently sits on a net worth estimated at $250 million. But she surely does not rely only on her modeling stints, she is a reputable actress, business mogul and owner of CB Inc.
CB Inc is the umbrella brand controlling her vast business network. It controls Brinkley Beauty, Christie's beauty brand, Hair2Wear; her line of hair extensions, and also her wine company known as Bellissima Prosecco. Her eyeglasses company; Christie Brinkley Eyewear, as well as her real estate company, are also controlled by the same company.
Personal Life – Spouse or Husband, Daughters
"attachment_31234″ class="wp-caption aligncenter" style="width: 640px;" aria-describedby="caption-attachment-31234″>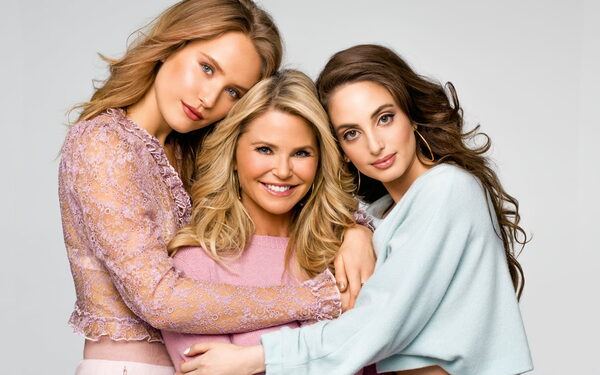 Like her career, Christie Brinkley has quite an interesting personal life which can never be kept away from the prying eyes of the media. For a beautiful and successful model and businesswoman, it is expected that she would have some names in her love diary. Brinkley has been married four times; she firt got hitched to Jean-François Allaux, a French artist in a 1973 marriage that lasted for only eight years and ended in 1981 producing no kids.
Brinkley soon moved on and got entangled with Billy Joel, a musician. The two who met in 1983, felt a spark between them and soon took things to the next level two years later; they got married in 1985. It is not clear what came between them but Brinkley and Joel separated in 1994 but still remain friends. They had a daughter together, Alexa Ray Joel, a musician.
Christie married Richard Taubman, a real estate developer in 1994. The very short marriage ended in 1995 after they welcomed a child Jack Taubman. Christie Brinkley married again the following year (1996 ) to Peter Halsey Cook, an architect. They had a daughter Sailor Lee Brinkley-Cook together and separated in 2008.
It is not clear whom the model and businesswoman is currently seeing but rumors had it that Brinkley was in a relationship with John Mellencamp. But the two reportedly separated after a year.
Plastic Surgery
Hitting 60 and still looking young is indeed a good thing but not so good when the public views it as a product of surgical enhancements. Christie Brinkley's everyday young look on the cameras over the years gradually led to speculations that she goes under the knife to maintain a youthful look.
Brinkley has not reacted negatively to the speculations but has rather stated her facts. According to the model, her ever glowing and smooth skin are only enhanced with dermatological treatments like botox cosmetics and other non-invasive procedures. This according to her, is contrary to reports that she uses the heavy surgical methods.