Daisy Ridley is a British actress who rose to international fame for playing the lead role of Rey in the Star Wars sequel trilogy films The Force Awakens (2015), The Last Jedi (2017), and The Rise of Skywalker (2019). Ridley has also starred in films like Murder on the Orient Express (2017) and Ophelia (2018).
Biography and Background
Daisy Jazz Isobel Ridley was born on April 10, 1992 in London, England. She is the youngest of five daughters born to Louise Fawkner-Corbett and Chris Ridley. Her mother works in communications and her father is a photographer. Ridley attended Tring Park School for the Performing Arts and later studied classical civilisation at Birkbeck, University of London before dropping out to pursue acting.
Early Career
Ridley began her acting career performing in small guest roles on television. In 2013, she appeared in the long-running medical drama Casualty. The following year, she had minor parts in shows like Youngers, Toast of London, and Silent Witness. Her first film role was in the 2015 British indie horror film Scrawl, where she played the lead role of Hannah.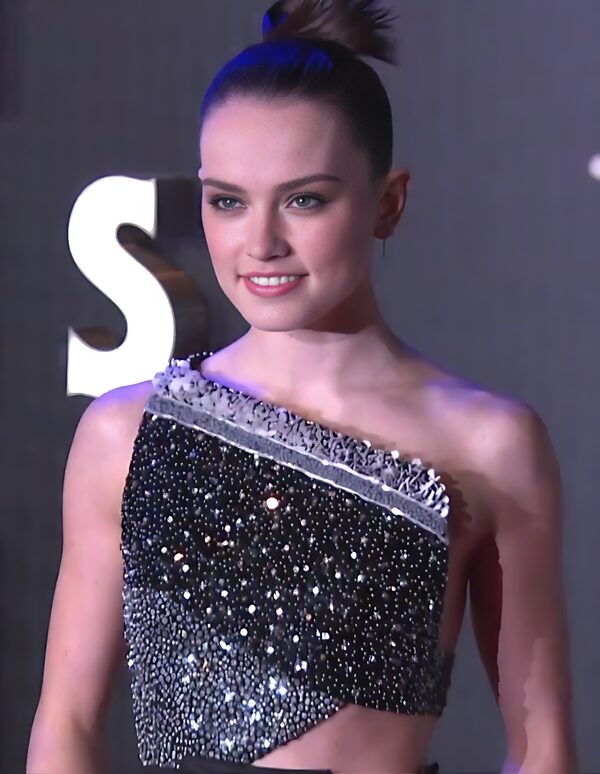 Breakthrough Role in Star Wars
In 2014, Ridley was cast as the lead character Rey in Star Wars: The Force Awakens, the first film of the new Star Wars sequel trilogy. Directed by J.J. Abrams, The Force Awakens became one of the highest grossing films of all time. Despite having no major acting credits at the time, Ridley beat out hundreds of other actresses for the coveted role of Rey, a scavenger with latent Force abilities.
Reprising her role as Rey, Ridley went on to star in the next two Star Wars sequels:
Her performance as the heroic Rey earned widespread critical praise and established Ridley as a globally recognized actress.
Other Notable Roles
In addition to Star Wars, Ridley has starred in several other high-profile films:

She has also provided voice-over work for the animated films Peter Rabbit (2018) and Peter Rabbit 2: The Runaway (2021).
Upcoming Projects
Ridley will continue expanding her acting range with several upcoming projects:
Young Woman and the Sea – playing competitive swimmer Gertrude Ederle
The Marsh King's Daughter – starring in the title role
Women in the Castle – attached to star in this adaptation of a WWII novel
She is also set to make her directorial debut helming the fantasy thriller Sometimes I Think About Dying starring Dave Bautista.
Personal Life
Ridley lives in London. Despite being a public figure, she keeps her personal life very private. She was previously rumored to be dating her Murder on the Orient Express co-star Josh Gad in 2017, but neither ever confirmed they were in a relationship.
An avid reader, some of Ridley's favorite authors include Kazuo Ishiguro, Philip Pullman, and Sylvia Plath. She also enjoys rock climbing, tennis, and skiing.
Ridley frequently speaks about the issue of mental health to help raise awareness and reduce stigma. She has been open about her own struggles with endometriosis and polycystic ovaries.
Daisy Ridley Facts
Full Name: Daisy Jazz Isobel Ridley
Birthday: April 10, 1992
Age: 31 years old (as of August 2023)
Height: 5′ 7″ (1.7 m)
Nationality: British
Parents: Louise Fawkner-Corbett and Chris Ridley
Siblings: 4 older sisters
Daisy Ridley FAQs
How old was Daisy Ridley when she began acting?
Daisy Ridley was in her early 20s when she began acting professionally. She landed her first on-screen roles in 2013 at the age of 21.
What was Daisy Ridley's first movie role?
Ridley's first movie role was in the 2015 British horror film Scrawl where she played the lead character Hannah. However, her breakthrough to worldwide fame came with 2015's Star Wars: The Force Awakens.
Is Daisy Ridley on Instagram?
Yes, Ridley has an official verified Instagram account under the username @daisyridley with over 4 million followers.
Who is Daisy Ridley dating?
Ridley's current relationship status is unclear. She keeps her dating life very private and away from the public eye. She has never been married and does not have children.
What accent does Daisy Ridley use in Star Wars?
Despite being British, Ridley uses an American accent for her character Rey in the Star Wars films.
What Star Wars movies has Daisy Ridley been in?
Ridley has starred as Rey in all three films of the Star Wars sequel trilogy – The Force Awakens, The Last Jedi, and The Rise of Skywalker.
Is Daisy Ridley related to the actor John Ridley?
No, Daisy Ridley is not related to the actor and screenwriter John Ridley. They just share the same last name by coincidence.