Born to a father who was a professional athlete, Patrick Mahomes was born with athletic genes. Rather than follow in his father's footsteps to become a professional baseball player, Mahomes found passion in another sport – football. Following an incredible college career at Texas Tech, Mahomes joined the NFL in 2017 after being drafted by the Kansas City Chiefs. He became the team's starting quarterback in 2018, a dream come true for every pro-footballer. patrick mahomes parents
Patrick Mahomes Bio
Patrick Mahomes' birth name is Patrick Lavon Mahomes II, his father shares exactly the same name. He was born on September 17, 1995, in Tyler, Texas. Born at a time when his father was already a pro athlete, Patrick Mahone had a fun childhood fielding balls for MLB greats like Derek Jeter and having batting practice with Alex Rodriguez. Raised in Whitehouse, Texas, Mahomes attended Whitehouse High School where he played three sports; football, baseball, and basketball.
In his senior year, Mahomes was exceptional at football and baseball. In one game in his senior year, Mahomes threw a no-hitter with 16 strikeouts. Such feat and more put him on the radar of many top MLB teams. In the 2014 Major League Draft, the Detroit Tigers drafted him in the 37th round, however, Mahomes had already committed to Texas Tech who had offered him a scholarship to play football. His pro baseball player father was surprised at his decision but supported him anyway. Mahomes had prior to college doubted his footballing abilities but was cheered on by his mom Randi.
Mahomes played as a backup quarterback in his freshman year before rising to the starting QB by his sophomore year. His love for baseball drew him to the varsity baseball team where he occasionally played as a relief pitcher. By his junior year, Mahomes turned all of his focus towards football and the results were immediately apparent. He went on to set a couple of NCAA records in a game against Oklahoma. He ended the year as a recipient of the Sammy Baugh Trophy and forwent his last year of college eligibility to enter the 2017 NFL draft where he was selected by the Kansas City Chiefs in the first round (10th overall).
Mahomes signed a four-year contract worth $16.42 million with a signing bonus of $10.08 million. After the teams' starter, Alex Smith was traded to the Washington Redskins in 2018, Patrick Mahomes became the team's starting quarterback.
Patrick Mahomes NFL Stats
At the end of his debut NFL season in 2017 Patrick Mahomes' career NFL stats are as follows;
| | | | | |
| --- | --- | --- | --- | --- |
| Passing Completions | Passer rating | Passing attempts | Passing yards | TD–INT |
| 22 | 76.4 | 35 | 284 | 0–1 |
Patrick Mahomes Parents and Family Members?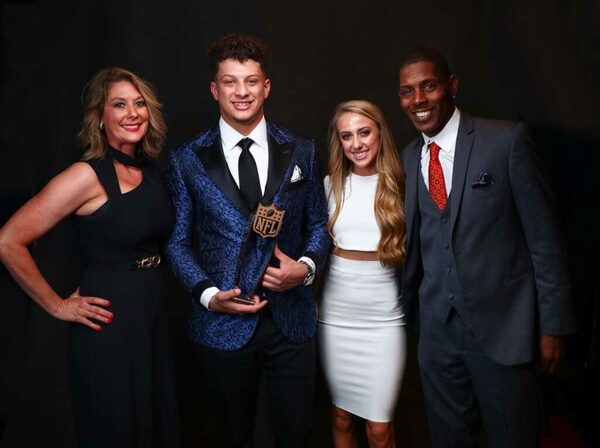 Patrick Mahomes was born to parents Pat Mahomes and Randi Martin. When Mahomes was only a kid, his parents divorced, however, they each managed to remain active in his life. For some time during his childhood, Mahomes spent time with his mom growing up in Whitehouse, Texas.
Among Mahomes' parents, the most recognized is his father Pat Mahomes who played in the Major League Baseball for over a decade. Pat Mahomes who played as a pitcher made his MLB debut on April 12, 1992, for the Minnesota Twins and brought his career to an end on August 26, 2003, playing for the Pittsburgh Pirates.
An all-state athlete in high school, Mahomes' father was drafted straight from high school forgoing scholarships to play college basketball and football. Pat Mahomes was drafted in 1988 and would spend the next four years developing in the minor leagues before joining the MLB in 1992. In addition to the Pittsburgh Pirates and Minnesota Twins, Pat Mahome played for such teams as Boston Red Sox, Yokohama BayStars, New York Mets, Texas Rangers, and Chicago Cubs. He had a win-loss record of 42–39.
Patrick Mahomes' family members include two younger siblings; a brother named Jackson and a sister named Mia. Jackson is following in his elder brother's footsteps with the aspiration of someday becoming a pro-athlete. During his time at Whitehouse High School, he played basketball. As of 2017, Mia was in elementary school.
Their mother Randi, on a couple of occasions, has revealed to the media how Patrick is so protective of his kid sister. Though Mahomes' parents divorced years ago, they remain best friends and the entire family maintains a close-knit relationship.
Since 2012, Mahomes has been dating soccer player and fellow Whitehouse, Texas native, Brittany Matthews.
If Like this article connect with StarBio Twitter, Pinterest