Volodymyr is a Ukrainian politician along with being a former actor and comedian. He is the president of Ukraine since 2019. As an actor, Zelenskyy has appeared in many movies like Love in the Big City, 8 First Dates 8 New Dates, Love in the Big City 2, and Office Romance Our TIME. Volodymyr appeared in the Dancing with the Stars (Ukraine) show in 2006.
In this blog, we will discuss Volodymyr Zelenskyy Family. Who are Volodymyr
Zelenskyy grew up in Kryvyi Rih, a Russian-speaking region in southeastern Ukraine. Prior to his acting career, Zelenskyy obtained a degree in law from the Kyiv National Economic University. He then pursued comedy and created the production company Kvartal 95, which produces films, cartoons, and TV shows including Servant of the People, in which Zelenskyy played the role of president of Ukraine. The series aired from 2015 to 2019 and was immensely popular. A political party bearing the same name as the television show was created in March 2018 by employees of Kvartal 95.
Zelenskyy announced his candidacy for the 2019 Ukrainian presidential election on the evening of 31 December 2018, alongside the New Year's Eve address of President Petro Poroshenko on 1+1 TV Channel. A political outsider, he had already become one of the frontrunners in opinion polls for the election. He won the election with 73.2 per cent of the vote in the second round, defeating Poroshenko. Identifying as a populist, he has positioned himself as an anti-establishment, anti-corruption figure.
As president, Zelenskyy has been a proponent of e-government and unity between the Ukrainian-speaking and Russian-speaking parts of the country's population. His communication style heavily utilises social media, particularly Instagram. His party won a landslide victory in a snap legislative election held shortly after his inauguration as president. During his administration, Zelenskyy oversaw the lifting of legal immunity for members of the Verkhovna Rada, Ukraine's parliament, the country's response to the COVID-19 pandemic and subsequent economic recession, and some progress in tackling corruption. Critics of Zelenskyy claim that in taking power away from the Ukrainian oligarchs, he has sought to centralise authority and strengthen his personal position.
Zelenskyy promised to end Ukraine's protracted conflict with Russia as part of his presidential campaign, and attempted to engage in dialogue with Russian President Vladimir Putin. Zelenskyy's administration faced an escalation of tensions with Russia in 2021, culminating in the launch of an ongoing full-scale Russian invasion in February 2022. Zelenskyy's strategy during the Russian military buildup was to calm the Ukrainian populace and assure the international community that Ukraine was not seeking to retaliate. He initially distanced himself from warnings of an imminent war, while also calling for security guarantees and military support from NATO to "withstand" the threat. After the commencement of the invasion, Zelenskyy declared martial law across Ukraine and general mobilisation.
Volodymyr Zelenskyy is the president of Ukraine. Ukraine is divided into 2 parts Western Ukraine and Eastern Ukraine. Eastern Ukraine is pro of NATO community and European countries so Russia does not want Eastern Ukraine to become part of NATO and European countries.
Because if Eastern Ukraine becomes their part, then Russia will be surrounded by all sides, so Russia present has declared war, which Ukraine should not become a part of NATO. Russia resumed missile strikes on 25 February 2022 at 4 am according to Volodymyr.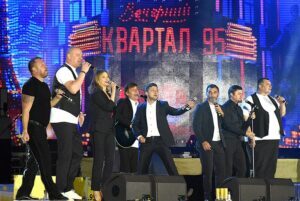 Volodymyr Zelenskyy Family, Wife, Children
Volodymyr Zelenskyy is a married man. He was married to Olena Kiyashko in September 2003. They were schoolmates. He is blessed with a son named Kyrylo and a daughter named Oleksandra. His son was born in January 2013. His daughter was born in July 2004.
In this blog, you can get the all details of Volodymyr Zelenskyy Family, Parents, Wife, Children, Wiki, Bio, Age, Career, Net Worth & More.
Volodymyr Zelenskyy Parents (Father & Mother), Siblings
In this paragraph, we will read about Volodymyr Zelenskyy's father & Mother. He was born to Oleksandr Zelenskyy ( Father ) and Rymma Zelenska ( Mother ). His father is a head of the Department of Cybernetics and Computing Hardware and a Professor at the Kryvyi Rih Institute of Economics. His mother was an engineer.
Volodymyr is a Ukrainian Politician who took birth on 25 January 1978. He was born in Kryvyi Rih, Ukraine to his parents. He has Ukrainian nationality. He is also known by his full name Volodymyr Oleksandrovych Zelenskyy. He studied in the Mongolian city of Erdenet for 4 Years. He cleared the Test of English as a Foreign Language to study in Israel but his father didn't want to send him so he completed his law degree from the Kryvyi Rih Institue of Economics.
He studied at Kyiv National Economic University to pursue his acting career.
Volodymyr Zelenskyy Age, Bio
Zelenskyy has lived his life 44 years from the time of birth so he is 44 years old.
e has the Aquarius zodiac sign because of taking birth on 25 January. He follows the Jewish religion.
Volodymyr Zelenskyy Career
Volodymyr appeared in the Dancing with the Stars (Ukraine) show in 2006.
He appeared in the Svaty and Servant of the People series.
As an actor, Zelenskyy has appeared in many movies like Love in the Big City, 8 Furst Dates 8 New Dates, Love in the Big City 2, and Office Romance Our TIME.
He has been serving as the 6th president of Ukraine since 20 May 2019.
Volodymyr Zelensky Height and Weight
Volodymyr's Height is 5 Feet 7 inches and his weight is approx 73 kg.
Volodymyr Zelenskyy Net Worth
Volodymyr is well known as the president of Ukraine who earns a very good amount.
Volodymyr's net worth is $705 Million.