75 Powerful Adolf Hitler Quotes That Gives Us Insight Into His Mind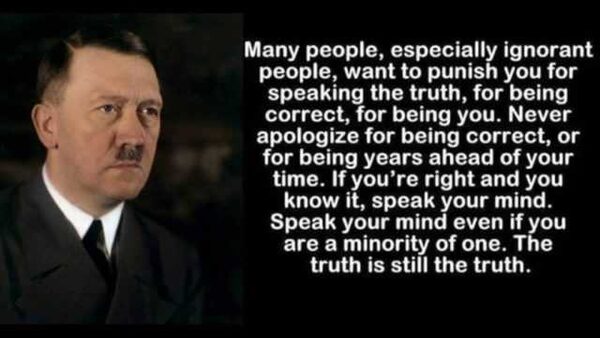 Born on the 20th of April 1889, Adolf Hitler was a German politician and principal of the National Socialist German Workers' Party (NSDAP), usually referred to as the Nazi Party in English, which subsequently grew to become German Weimar Republic's largest elected party. Being a leader, Hitler took a number of actions that placed him on the world map, thus, making his relevance in world history undeniable. This is the reason why even though he died way back on 30 April 1945, Adolf Hitler quotes are still very much sought after in this present day.
Hitler's rise to power came in 1933 when he became the Chancellor of Germany and later on, the nation's leader in 1934. From 1933 to 1945 that he was in power, Hitler was greatly feared, being a dictator. However, within the first six years of his leadership, Germany recorded a rapid recovery from the Great Depression.
It was Adolf Hitler who initiated World War II in Europe as it is believed that he harbored gross hatred against the Jews following his conviction that they were responsible for the defeat of Germany in World War 1. He triggered the second round of the war by launching an invasion on Poland on the 1st of September 1939 and all through the period the war lasted, he remained very much involved in operations of the military and was at the center of the Holocaust, which led to the death of six million European Jews, the largest massacre ever witnessed by the world. Reports have it that his main purpose for the invasion and genocide was to create living spaces for the authentic German citizens.
Although Hitler portrayed himself as a celibate man with no domestic life totally sold out to the service of the nation, he eventually met and married a lady known as Eva Braun on the 29th of April, 1945. A day after their marriage, they committed suicide in order to avoid being captured by the Red Army.
Below are some of the famous Adolf Hitler quotes that allow us a peep into his mind.
75 Powerful Adolf Hitler Quotes That Give Us Insight Into His Mind
1. Conscience is a Jewish invention.
2. I respected my father, but I loved my mother
3. As in everything, nature is the best instructor.
4. Reading is not an end to itself, but a means to an end.
5. Those who want to live, let them fight, and those who do not want to fight in this world of eternal struggle do not deserve to live.
6. It may be that today gold has become the exclusive ruler of life, but the time will come when man will again bow down before a higher god.
7. Never deprive someone of hope; it may be all they have.
8. Strength lies not in defense but in attack.
9. Art and science were in German hands. Apart from the new artistic trash, which might easily have been produced by a negro tribe, all genuine artistic inspiration came from the German section of the population.
10. God's and beasts, that is what our world is made of.
11. Our object must be to bring our territory into harmony with the numbers of our population.
12. Obstacles do not exist to be surrendered to, but only to be broken.
13. Humanitarianism is the expression of stupidity and cowardice.
14. I use emotion for the many and reserve reason for the few.
15. Think Thousand times before taking a decision but after taking a decision, never turn back even if you get Thousand difficulties!!
16. Thus inwardly armed with confidence in God and the unshakable stupidity of the voting citizenry, the politicians can begin the fight for the "remaking" of the Reich as they call it.
17. When you are in light, everything will follow you. But when you enter dark, even your own shadow will not follow you, that is life
18. Kill, Destroy, Sack, Tell lie; how much you want after victory nobody asks why?
19. Whenever human activity is directed exclusively to the service of the instinct for self-preservation it is called theft or usury, robbery or burglary etc
20. From early youth, I endeavored to read books in the right way and I was fortunate in having a good memory and intelligence to assist me.
21. The German people in its whole character is not warlike, but rather soldierly, that is, while they do not want war, they are not frightened by the thoughts of it.
22. Struggle is the father of all things. It is not by the principles of humanity that man lives nor is it by being able to preserve himself above the animal world, but solely by means of the most brutal struggle.
23. If freedom is short of weapons, we must compensate with willpower.
24. The art of reading, as of learning is this: to retain the essential, to forget the non-essential.
25. And I can fight only for something that I love, love only what I respect, and respect only what I at least know.
26. Anyone who dares to lay hands on the highest image of the Lord commits sacrilege against the benevolent Creator of this miracle and contributes to the expulsion from paradise.
27. Life is like a mirror, if you frown at it, it frowns back; if you smile, it returns the greeting.
28. The state must declare the child to be the most precious treasure of the people. As long as the government is perceived as working for the benefit of the children, the people will happily endure almost any curtailment of liberty and almost any deprivation.