It is an unusual way to make a living that Alison Victoria decided to pick, and that is the main reason why some of us really love her.
She crashes kitchens in a way only she can do it and makes them back in her own way. Through the entire process, she always has cameras catching it all to serve it as hot as her audience would love. Straight from the kitchen.
Even though she is not on the "regular" entertainment scene, the beautiful woman has got the eyes of many who want to know as much as possible about her and not just the kitchen stuff.
Alison Victoria Wiki/Bio
Alison Victoria was born on October 31, 1981, in Chicago, Illinois as Alison Victoria Gramenos.
She was brought up with her 3 siblings with by her parents on the 46th floor of the John Hancock building in Chicago.
For her education, Alison Victoria attended the University of Nevada, and after graduating, she decided to pursue a career in interior design. The dream of becoming an interior designer began for her at the age of 10 thanks to the architecture of Chicago.
Starting out very young, Victoria got her experience from Christopher Homes in Las Vegas. At the time she was there, the beautiful woman was the youngest of the designers in the house.
In 2001, she took a leap into the huge industry by launching Victoria Interiors which was her own consulting firm. She was only 23 at the time. Soon, the firm established its place by having offices in both Chicago, where she is from and Las Vegas where she got her knowledge.
Her rise has rather been amazing and bold. She has worked for different clients including Silverton Casino Hotel in Las Vegas. The hotel hired her to handle a massive $160 million expansion even when she was still very young in the whole system.
Interestingly enough for her, as early as 2011, her breakthrough was already evident and she was awarded by the Las Vegas Business Press with a Rising Stars of Business award.
On TV, Victoria became the first female star on DIY Network's Kitchen Crashers.
The 36-years-old intelligent designer rose to fame through her show on TV including the most popular Kitchen Crashers on DIY Network. Other things she has done are Ultimate Crash: House, Bath, Kitchen and Yard which she hosted, and Windy City Flip which is a new show.
Victoria started working in the field of interior design after graduation. She was the youngest designer in Christopher Homes in Las Vegas.
In particular, Victoria worked under Park City Tuhaye Project from 2004 to 2007.
Later, she launched her consulting firm, Alison Victoria Interiors. Also, the firm branched into two locations. One is Las Vegas, and the next in Chicago. Also, she worked in the Silvertone Casino hotel in Las Vegas.
Furthermore, Victoria is the female host of the series Kitchen Crasher. The series is the part of the Crasher franchise aired on HGTV. Victoria dishes out loads of design advice through the show.
Alison Victoria Married, Husband
Unfortunately for many looking at the beautiful woman with the hopes of anything working out, Alison Victoria is married. Her husband is an insurance agent, Luke Harding.
Surprisingly enough, the beautiful crusher found love on a dating site where she met with Harding. Immediately the two later met, he ended up being crushed by her. That was in 2011. Two years down the line, Harding proposed to her on a midnight when the duo was on a picnic.
Recalling how it all went, Victoria revealed thus; "Luke proposed during our midnight picnic and said he wanted to wait for this night because it was his parents' 34th wedding anniversary, and their marriage was something he wanted with me."
Soon, vows were exchanged, and today, the couple has a beautiful daughter.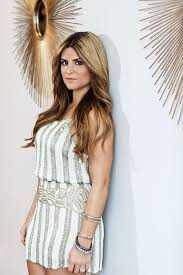 Alison Victoria Measurements
A very beautiful woman with a nice physique, Victoria has a height of 5'0″ (152 cm). Her body weight has been given as 120 lbs (54 kg), while her Breasts-Waist-Hips measurements are 35-25-36 inches (89-64-91 cm).
Alison Victoria Net Worth
A great worker with passion and dedication, intelligence and creativity, Alison Victoria has a net worth that stretches into the millions, we estimate somewhere between $1 million and $1.5 million.