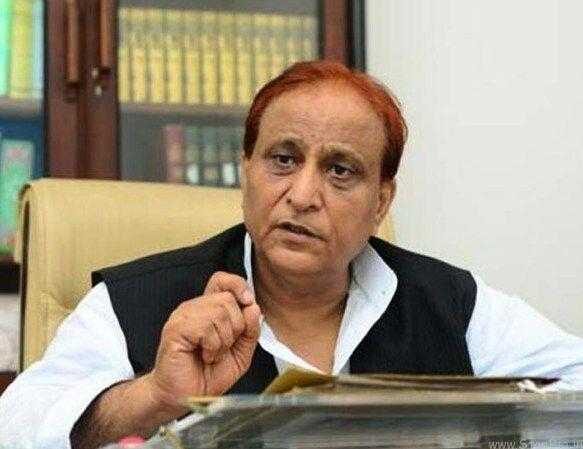 Azam Khan is an Indian lawyer and politician. He is a member of the Seventeenth Legislative Assembly of Uttar Pradesh. Khan is one of the founding members of the 'Samajwadi Party' in India.
Wiki/Biography
Azam Khan was born on 14 August 1955 (age 63 years; as in 2018) in Rampur district, Uttar Pradesh. His zodiac sign is Leo. After completing his schooling, he went to Aligarh Muslim University to pursue his graduation in Law. He graduated from there in 1974 and started working as a Lawyer. Thereafter, he joined politics in 1980.
Physical Appearance
Height: 5' 7"
Weight: 75 kg
Hair Colour: Salt & Pepper
Eye Colour: Dark Brown
Family, Caste & Wife
Azam Khan belongs to a Muslim Family and follows Islam. He is the son of Mumtaz Khan. Not much is known about his mother and siblings. He got married to Tazeen Fatima who is a member of Rajya Sabha from Uttar Pradesh. Khan has two sons. His son, Mohammad Abdulla Azam Khan, is also a politician.
Career
Azam Khan started his political career in 1980 with Janta Dal (Secular) when he first became the Member of Legislative Assembly from Rampur Constituency. During his second term, he moved to Lok Dal. Azam was a member Janata Dal in his third term as an MLA and then moved to Janata Party for his fourth term. In 1992, he co-founded the Samajwadi Party and became the MLA for the fifth time. Since 1993, he has been the member of the Samajwadi Party. He has served as an MLA for 9 terms from the Rampur constituency. Khan has also been the Cabinet Minister under the Government of Uttar Pradesh. Khan held the post of the General Secretary of the Samajwadi Party and he resigned from the same on 17 May 2009. He fell out with Mulayam Singh Yadav during the 15th Loksabha Elections and was expelled for six years from the party on 24 May 2009. However, the party later revoked his expulsion and Khan again became the member of Samajwadi Party on 4 December 2010. After his win in the 2014 elections, he again received a ticket from Rampur constituency by the Samajwadi Party for the 2019 Lok Sabha elections.
Controversies
On 28 August 2012, Azam used some abusive words for an Indian IAS Officer. He shouted- "Bakwas karte ho…chup baithiye…badtameez kaheen ke" (Stop talking non-sense…sit quietly…you ill-mannered).
It is believed that Khan pressurised the police not to arrest the Muslims during the 2013 Muzaffarnagar riots.
Khan made it to the headlines when he deployed a team of 100 policemen and a sniffer dog to find his missing buffaloes.
On 21 November 2014, Azam demanded that Taj Mahal should be handed over to the Wakf Board. He was later criticised by the media on the grounds that Taj Mahal belongs to the entire country and not just a particular community.
In October 2015, Azam commented that the Bhartiya Janata Party MP Mahesh Sharma should be arrested for conspiring to commit the murder of a man for eating beef in the Dadri village of Bisara.
He hogged the spotlight by making a controversial comment on the November 2015 Paris Attacks. Khan said- "The Paris terror attacks were the result of the action of global superpowers like America and Russia and history will decide who is a terrorist."
By referring to the Kargil War, Khan once said: "The peaks of Kargil were conquered not by Hindu, but Pakistani soldiers." His statement was criticized by the Indian media and an FIR was lodged against him. He, later, refused to apologize for his words and accused the Indian Election Commission of being biased against him because of his religion.
Azam once held a birthday bash for Mulayam Yadav when he was a part of the Akhilesh Government and when some media persons sought to know who funded the birthday bash, Azam replied- "Fund Taliban se aaya hai. Kuch Dawood ne diya hai, kuch Abu Salem se aaya hai."
Khan was also accused of calling Bharatmata a "dayan" (witch). However, he later clarified that it was in the context of his religious beliefs.
On 15 April 2019, an FIR was registered against Azam by the Uttar Pradesh Police for his "underwear jibe" against the BJP candidate Jaya Prada, who is fighting Lok Sabha polls from Rampur opposite him. He was, later, barred from campaigning by the Election Commission for 72 hours.
Salary/Net Worth
Azam Khan gets paid a salary of approximately INR 1.87 Lakh per month. His net worth is estimated to be INR 1,72,11,000 (as of 2012).
Facts
Azam Khan is the longest serving MLA, after Ganpatrao Deshmukh, who served as an MLA 11 times.
Before founding the Samajwadi Party, Azam has been a member of four other political parties.
Azam has served as an MLA for 9 terms from Rampur Assembly Constituency.
His residence is at Mohalla-Dheramirabaj Khan, Tanki No.-5, Rampur, Uttar Pradesh, India.