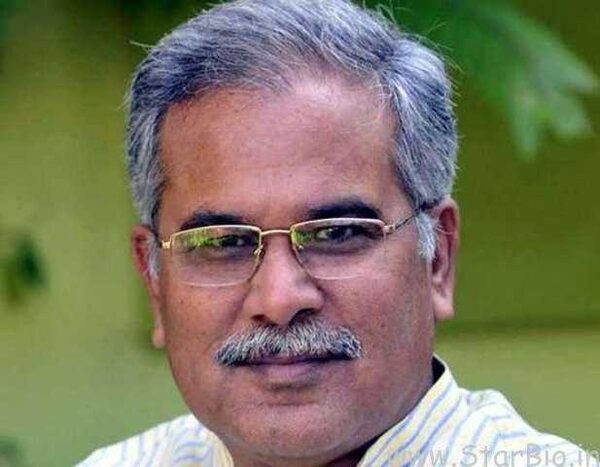 Bhupesh Baghel is an Indian Politician and one of the prominent leaders of the Indian National Congress. He has served as an important minister in several state cabinets of Madhya Pradesh and Chhattisgarh. In several state assembly elections, he has played a key role in winning of his party.
Biography/Wiki, Caste
Bhupesh Baghel was born in a Kurmi Chhatriya family on 23 August 1961 in Durg, Madhya Pradesh, India (Now in Chhattisgarh). Since childhood, he had a great interest in politics and under the guidance of his political guru, Chandulal Chandrakar, he began his political career in the early 1980s. In 1985, he joined the Indian Youth Congress (IYC) and became the president of it in his district, Durg. In 1994, he became the vice-president of Madhya Pradesh Youth Congress.
Family
Bhupesh Baghel was born to Nand Kumar Baghel who was a farmer and Bindeshwari Baghel. He married  Mukteshwari Baghel and the couple has four children.
Career
In 1993, Baghel was elected to the Madhya Pradesh Legislative Assembly for the first time from Patan constituency. He was re-elected to the assembly in 1998 and appointed as Minister of State (In Public Grievance Dept.) in the government of Digvijaya Singh. When Chhattisgarh came into existence in 2000, Baghel became the first Minister for Revenue, Public Health Engineering and relief work and remained until 2003. He became a member of Chhattisgarh legislative assembly in 2003 from the same constituency. From 2003 to 2008, he was the deputy leader of Opposition in the Chhattisgarh Legislative Assembly. In 2004, he was the candidate for the Parliamentary election from Durg Lok Sabha Constituency but he lost the election. Again, in the 2009 general election, he stood against Ramesh Bais of BJP but lost. In 2014, he was appointed the State President of Congress. In 2018, he was the state chief Congress party in the assembly election in November.
Controversy
In October 2017, he was at the center of Sex CD Controversy. He faced the allegation of distributing of fake Sex CD containing the objectional footage of State Cabinet Minister Rajesh Munat. CBI found Baghel guilty and sent him to 14 days judicial custody.
Assets/Net Worth
As in 2013, he has ₹2 Lakh as Bank Fixed Deposits, ₹25 Lakh as Bonds, Debentures, Shares, Jewellery worth more than ₹15 Lakh. His Net Worth is ₹8 Crore.
Interesting Facts
For many years, Baghel has been organising the mass marriage ceremonies to promote marriages with minimum expenditure.
He belongs to Manva Kurmi Chhatriya Samaj, so, he has been a patron of this Society since 1993.
Baghel is the son-in-law of famous Hindi writer Dr. Narendra Dev Verma.
His wife, Mukteshwari Baghel is the niece of spiritual leader Swami Atmanand.