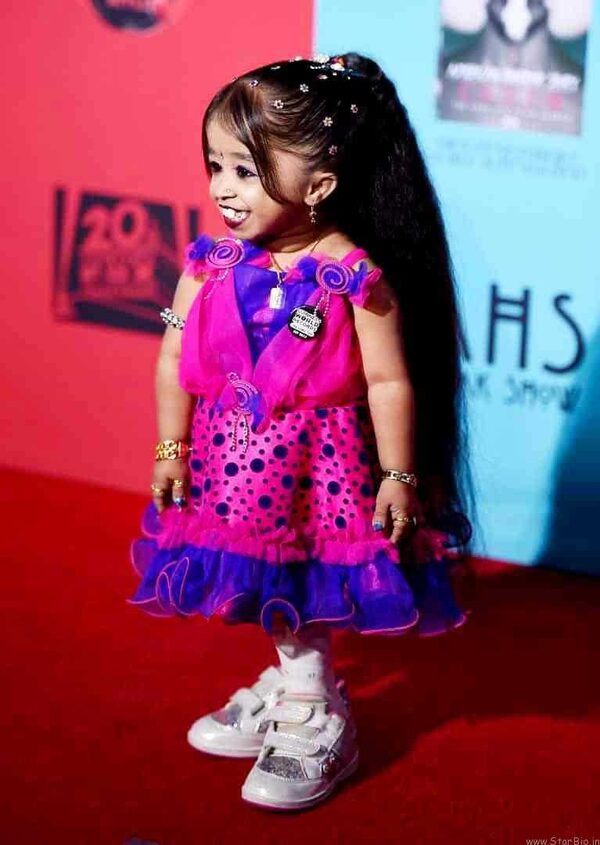 Jyoti Amge is an Indian girl who holds the Guinness World Record for being the World's Shortest Woman alive. She has been holding on to this record from 2011, prior to which she was the World's Smallest Teenager. She made her debut as an actor in the famous American TV show, American Horror Story.
Wiki/Biography
Jyoti Amge was born on 16 December 1993 (age 25 years; as in 2018) in Nagpur, Maharashtra. Her zodiac sign is Sagittarius.
She did her schooling from a local school of Nagpur.
Physical Appearance
Height: 2'06"
Weight: 5 kg
Hair Colour: Black
Eye Colour: Black
Family
Jyoti belongs to a Hindu family. Not much is known about her family. Her father's name is Kishanji Amge, and her mother's name is Ranjana Amge.
She has 3 elder sisters, Vaishali Amge, Rupali Amge, and Archana Amge.
Jyoti also has an older brother, Satish Amge.
Career
Jyoti always wanted to be an actress. After she got the title of the World's Shortest Woman in 2011, many news channels from around the world made a documentary about her. In 2013, she appeared in a reality TV show, Bigg Boss, in which she was a guest participant. In the same year, she also got a chance to host an Italian TV show along with Italian actor Teo Mammucari.
In 2014, she was selected for the season 4 of the American TV show, American Horror Story, which premiered in 2015. She was honored by the Russian International Horror Film Awards for her role in American Horror Story: Freak Show for the character of Ma Petite.
Facts
She claimed the record for the World's Smallest Teenager in 2009. In 2011, when she turned 18, her height was measured again and thereafter, she was declared as the World's Smallest Woman by The Guinness World Records (a record which she still holds).
She stopped growing after her second birthday, and after consulting a lot of doctors, her parents came to know that she has a form of dwarfism, known as achondroplasia. It is basically a genetic disorder, which stops hormones from producing in the body. Jyoti will remain of the same height and weight, as she was when she was 5 years old, for all her life.
Even though she was physically different, she always led a normal life and hated when people treated her differently. When she was new in school, she was afraid of the other kids as they looked huge to her, but eventually, she made friends who used helped her get around.
She has a custom-made bed, table, chairs, cutlery, and other things special ordered for her so that she can live a normal life as generally, all these things were too big for her to use.
She has visited many countries and has also been invited by many news channels from around the world, who wanted to film a documentary about her.
She often travels to different countries to meet other Guinness Record holders. These trips are organized by Guinness. She has met other record holders such as the Tallest Man, the Shortest Man, the Tallest Woman, among many more.
Due to her part in American Horror Story, she has a lot of friends in Hollywood such as Lady Gaga, Sarah Paulson, Emma Roberts, Evan Peters, among many more.