As far as the history of the National Football League (NFL) for the Arizona Cardinals is concerned, one name that should not be forgotten is Larry Fitzgerald. A pro-American Footballer who has helped the team reach the NFL Pro Bowl in 2008, he is a wide receiver who has steadily risen in his career since he made the NFL Draft in 2004. Beyond the Cardinals, he has likewise been an important player during his college days. Here is all to know about him. Larry Fitzgerald Girlfriend, Mom, Kids, Family, Contact
Larry Fitzgerald's Biography
It was on August 31, 1983, that the NFL wide receiver was born as Larry Darnell Fitzgerald Jr. in Minneapolis, Minnesota. Just as one would come to expect from many others who have risen in various sports, Larry came from a family that loved sports. This became an inspiration for him.
For his education, he attended the Richfield (MN) Academy of Holy Angels from where he proceeded to the University of Pittsburgh. As naturally expected, he played the sport he loved during his school days and he was able to make it into the NFL in 2004 after making the year's draft as the third pick in round 1.
While playing for the Pittsburgh Panthers, he became famous as one of the very best wide receivers. His freshman season which was in 2002 was an overwhelming success having helped the team to a pro bowl and his sophomore season was likewise great that it became apparent he was the best player in the National Collegiate Athletic Association (NCAA) at the time.
Much later, he would return to the University of Phoenix from where he completed his undergraduate studies in 2016. This was mainly because he made a promise to his mother that he would finish college.
It is very interesting to point out that he began his career with the Arizona Cardinals. Throughout his career, he has made 11 Pro Bowls and was a member of the First-team All-Pro once, Second-team All-Pro twice, among many other achievements that he has recorded. These include the Walter Payton NFL Man of the Year in 2016.
Family, Mom
"attachment_21465″ class="wp-caption aligncenter" style="width: 640px;" aria-describedby="caption-attachment-21465″>
As earlier noted, the NFL star was raised in a family that loved sports. His father Larry Fitzgerald Sr. has been a sports reporter for a very long time. He has worked with various media outlets including TV, Radio, the internet, and more famously the newspaper. He has covered more than 30 Super Bowls. When he was much younger in his high school days, the senior Fitzgerald also played football although he didn't go pro.
Larry Fitzgerald Jr. has a younger brother, Marcus Fitzgerald who also plays football. The two brothers got to learn the mental part of the game from their father according to him. That was as far back as when Larry was only 10.
He was very close to his mother Carol Fitzgerald until she died in 2003. He lost her to brain haemorrhage which was caused after she was treated for breast cancer. At the time of her death, Fitzgerald was in college and by the time he came with his brother to see her, she was already in a coma. It is in her memory that the NFL star now leaves his hair as he does because she also carried deadlocks. More so, he still carries her driver's license with him.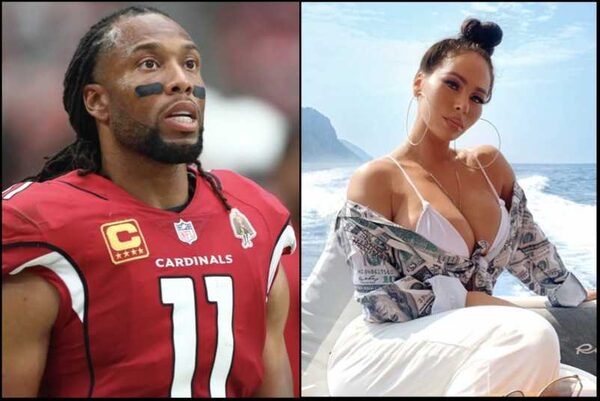 Larry Fitzgerald Girlfriend, Wife, Kids
In case you are wondering, Larry Fitzgerald has no wife and he has never been married. However, he was known to have had a couple of girlfriends in the past with the first being Angela Nazario. The two dated in 2006. At the time, he was just 22 while the cheerleader was 35. Although the relationship didn't last long, it produced a son, Devine Fitzgerald.
Angela Nazario and Larry were later caught in a legal battle in which the former cheerleader accused him of domestic violence. She was able to secure a protection against him.
Larry has also been in a rather long relationship with Melissa Blakesley who is the mother of his second child, Apollo Fitzgerald. The two have sustained for some time now and many are already regarding her as his wife. The footballer is very close to both his kids.
Body Measurements
The dreadlock Cardinals Wide receiver has a good built that has helped him to play successfully in the NFL for more than 14 years. He has a height of 6 feet 3 inches (1.91 m) and a body weight of 218 lb (99 kg). That noted, his general body measurements are not provided.