Paul Lieberstein is an American actor, producer, screenwriter, and director. He is well known for his work on the American version of the comedy series The Office where he played multiple behind-the-scenes roles of co-producer, writer, and director in addition to an acting role. The multitalented actor appeared in the supporting role of Toby Flenderson throughout the 9-season run of the series and served as the showrunner from season 5 to season 8.
King of the Hill earned him (and several others) the 1999 Primetime Emmy Award for Outstanding Animated Program. He also served as a producer on The Drew Carey Show (Season 6) and on the HBO drama series The Newsroom (Season 3).
Bio
The multitalented actor was born Paul Bevan Lieberstein on February 22, 1967, in Westport, Connecticut. His mother Judith Lieberstein is a clinical psychologist and his father Stanley Lieberstein is a lawyer. He was raised alongside 2 siblings; an older sister named Susanne and a younger brother named Warren. Both of his siblings are also into showbiz, his sister Susanne Daniels is a high-level entertainment executive while his brother Warren Lieberstein is a writer and producer.
The young Lieberstein had his high school education at Staples High School located in Westport, Connecticut. He had his college education at Hamilton College located in Clinton, New York. He graduated in 1989 with a bachelors degree in Economics. Upon graduation, he landed a regular job at Peat Marwick International, an international accounting firm. In less than 1 year, he quit his first job and took a part-time position at his father's law firm which enabled him to also pursue a career as a screenwriter.
Paul Lieberstein Interview
In 1992, Paul Lieberstein recorded one of his early writing credits on an episode of the Nickelodeon sitcom Clarissa Explains It All. In 1998, he landed a major writing role on the Fox animated sitcom King of the Hill. Lieberstein wrote several episodes for the first 5 seasons of the show for which he shared the 1999 Primetime Emmy Award for Outstanding Animated Program.
On the NBC mockumentary series The Office (2005-13), Paul Lieberstein served as producer, writer, director and supporting actor. He served as the showrunner of the series from the 5th to the 8th season. His supporting role as Toby Flenderson throughout the 9 seasons of the show earned him the 2006 SAG Award for "Outstanding Performance by an Ensemble in a Comedy Series". Lieberstein also shared the 2007 Daytime Emmy Award for "Outstanding Broadband Program–Comedy" for his brilliant work on The Office.
Lieberstein also served as the producer of the 3rd season of the political drama series The Newsroom (2014). In November 2017, he was named as the showrunner of the supernatural sitcom Ghosted (2017-present) replacing Kevin Etten who was the initial showrunner.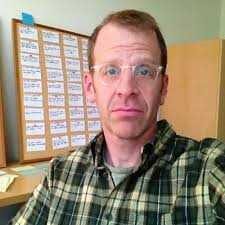 As an actor, Paul Lieberstein had a small role in the comedy film The Goods: Live Hard, Sell Hard (2009). He also starred in guest roles in the political drama series The Newsroom (2014) as well as the comedy series Bad Teacher (2014) and People of Earth (2017). He marked his directorial debut on the big screen with the comedy film Song of Back and Neck (2018) which had its world premiere in April 2018 at the Tribeca Film Festival.
In May 2011, the multi-talented writer, producer, director and actor received an Honorary Doctorate of Fine Arts degree from his alma mater Hamilton College.
Wife
Paul Lieberstein is married to Janine Serafin Poreba. She is an English teacher at Santa Monica College in Santa Monica, California. The duo tied the knot on July 19, 2008, at New York City's Battery Gardens restaurant. Lieberstein and his wife Janine Poreba keep the details of their private life off the media radar. They do not make many public appearances together and they keep their family life well under wraps.
Lieberstein's current marriage is his second as he had been married in the past. His first marriage ended in a divorce. He has 5 children from both marriages.
Paul Lieberstein Net Worth
Paul Lieberstein's career as a screenwriter, producer, actor and director currently spans well over 2 decades. He proved himself very early in his career which earned him several long-lasting roles. Via his illustrious career, Lieberstein has been able to amass a wealth estimated to be worth $15 million. This enviable sum is even expected to get even higher as he takes on several other lucrative roles.
Weight Loss And His Battle With Cancer
During the concluding episodes of the final season of The Office, Paul Lieberstein who portrayed the character Toby Flenderson appeared to be visibly emaciated. This gave rise to speculations that the multitalented actor had been diagnosed with cancer. The rumors were complicated by the fact that Lieberstein was visibly absent at several social events during that period leading to further speculations that he was undergoing chemotherapy at a New York hospital.
Height, Weight, Age, DOB
However, these speculations were never addressed by Paul Lieberstein himself. He has also regained his weight and has returned to his usual form which has helped to put all the speculations about his health to rest. His weight is put at 66 kg and he is 5′ 9½" (177 cm) in height. Paul Lieberstein age 53 years as in (22 February 1967)