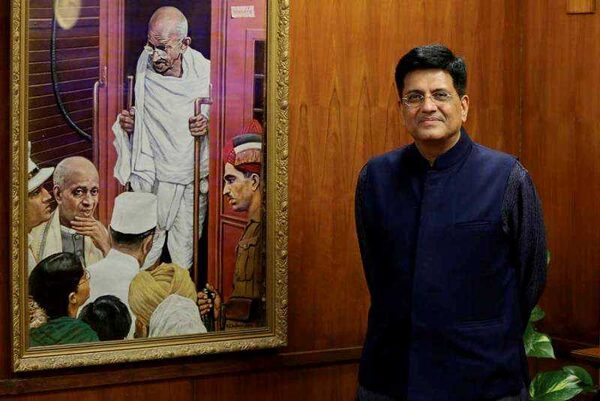 Piyush Goyal is an Indian politician. He is a Rajya Sabha MP from Maharashtra. Goyal was appointed as the Minister of Railways and the Minister of Coal in the Narendra Modi government. He was given the additional charge of the Finance Ministry temporarily in August 2018 and he presented the 2019 Interim budget.
Wiki/Biography
Piyush Goyal was born on 13 June 1964 (age 55 years; as in 2019) in Mumbai, Maharashtra. His zodiac sign is Gemini. He did his schooling from Don Bosco High School, Mumbai. He pursued B.Com from the H.R. College Of Commerce & Economics in 1984. In 1987 he got his Bachelors in Law Degree from the Government Law College, Mumbai. He also took admission in the Institute of Chartered Accountants of India, New Delhi and was the All India second rank holder. He has been a part of many Leadership programs at universities like Yale, Oxford, and Princeton. Goyal also holds an F.C.A. Certificate; which is a certificate given to Chartered Accountants after they complete 5 years of practice.
Before joining politics, Goyal was an investment banker. He served on the board of banks such as State Bank of India (2001-2004) and Bank of Baroda (2002-2004). He was appointed in the board of Bank of Baroda as a Government Nominee.
Physical Appearance
Height: 5′ 10″
Weight: 70 kg
Eye Colour: Brown
Hair Colour: Black
Family, Wife & Caste
Piyush Goyal belongs to a Vaishya (Bania) Family. His father, Ved Prakash Goyal, was an Indian politician and a former Union Minister in the Atal Bihari Vajpayee Government. His mother, Chandrakanta Goyal, is a former BJP MLA from Mumbai.
He is married to Seema Goyal. They have a daughter, Radhika, and a son, Dhruv.
Political Career
Piyush Goyal has been involved in politics for a long time. In 1991, he was the Deputy in-charge for the parliamentary elections. In 2002, he was appointed in the Task Force for inter-linking all the rivers of India. From 2004 onwards, he has been overlooking all the elections at a central level that the BJP contests in and has also played a crucial part in the BJP's growing publicity. He was appointed as the National Treasurer of the Bharatiya Janata Party (BJP) from March 2010 to May 2014. He was appointed as a Member of the Standing Committee on Finance in August 2010. On 5 July 2012, he was elected to the Rajya Sabha from Maharashtra.
Piyush Goyal has been a key strategizer for the BJP. He was one of the first people to come up with the idea of Narendra Modi as PM. Goyal also heads the Information Technology (IT) communication sub-committee and is in charge of all the communication and initiatives of the BJP through social media. Piyush Goyal also heads the Press Information Bureau.
He has been a member of many committees related to economic issues. He is also known as a troubleshooter as whenever there is a crisis, his opinions are always considered. He participated in many economic debates in the Parliament. On 27 May 2016, he was appointed as the Union Minister of Power, Coal, and New & Renewable Energy. He took started many important initiatives during his term. He was widely praised and credited for providing 24*7 electricity to 16,385 villages of the 18,452 villages. He claims that the remaining 944 villages will also be provided with electricity before 15 August 2022. He was appointed as the Union Railway Minister on 3 September 2017. He took charge from Suresh Prabhu; who was transferred to the Ministry of Civil Aviation and Commerce.
As the Union Minister of Railways, he introduced several trains with updated technology and faster speeds than the existing ones; the most significant being Train 18, which runs at a speed of 160 km/hour. He helped improve the condition of railway platforms across India. He increased the capital expenditure of the Railway Ministry by Rs. 5.1 Lac Crores. During his tenure as Railway Minister, there has been a 59 per cent increase in commissioning of new, double, third and fourth railway line projects.
On 14 May 2018, he was given the additional charge of the Finance Ministry; after Finance Minister Arun Jaitley had to take a leave of absence due to serious health issues. During his term as Finance Minister, he presented the 2019 Interim Union Budget of India on 1 February 2019.
On 15 February 2019, Arun Jaitley assumed office and Goyal was relieved from his duties as Finance Minister. Piyush Goyal welcomed back Arun Jaitley with a cake as his health had improved significantly.
Awards
He was awarded the 2018 Carnot Prize for distinguished contributions to energy policy and work in village electrification by the University of Pennsylvania's Kleinman Center for Energy Policy
Controversies
On 4 April 2018, it was revealed that a company, Shirdi Industries, whose chairman was Piyush Goyal until July 2010 and was now headed by his wife Seema Goyal had Rs. 650 Crores in unpaid loans. In 2015 the company was declared as an NPA and its loans were written off. Many people including Rahul Gandhi raised questions over this and demanded to know why Goyal's company, Shirdi Industries, was written off as a non-performing asset and no enquiry or probe was ordered.
शाह-जादा के दिलचस्प किस्से, शौर्य-गाथा और 'छोटे मोदी के बड़े कारनामे' के बाद भाजपा प्रस्तुत करती है-शिरडी का चमत्कार#PiyushGhotalahttps://t.co/E2fvOMtN8M

— Rahul Gandhi (@RahulGandhi) April 3, 2018
Address
Municipal House No 67, Sonmarg Laxmibai Jagmohandas Marg Nepean Sea Road, Malabar Hill, Mumbai
Car Collection
Piyush Goyal has two cars registered to him, a Toyota Corolla and a Toyota Camry Hybrid
Assets & Properties
Movable Assets: Rs. 25.42 Crores
Cash: Rs. 3.43 Lacs
Bank Deposits: Rs. 48 Lacs
Jewellery: 1350 gm Gold, 2 kg Silver, 295.51 CT Diamonds, 2 18 carat Gold watches; worth Rs. 2.03 Crores
Properties: Rs. 3.28 Crores
Residential Apartment in Mumbai worth Rs. 3.28 Crores
Salary & Net Worth
Salary: Rs. 1 Lac + Other Allowances (as a Cabinet Minister)
Net Worth: Rs. 95.37 Crores
Facts
Piyush Goyal is often referred to as PM Narendra Modi's troubleshooter; as whenever there's a problem, Piyush Goyal is always consulted.
He is known as BJP's all season man. It is reported by many leaders of the BJP that is Piyush Goyal undertakes a task then it will surely be done. He is a go-getter.
He is considered to be very close to Narendra Modi, Amit Shah, and Arun Jaitley and is usually involved in all the crucial decisions of the government.
For the 2014 Lok Sabha elections, Goyal was in charge of the advertisement campaigns of the BJP.
He is a philanthropist at heart. He along with his wife, Seema Goyal, participate in a lot of social work and are also associated with a lot of NGO's.