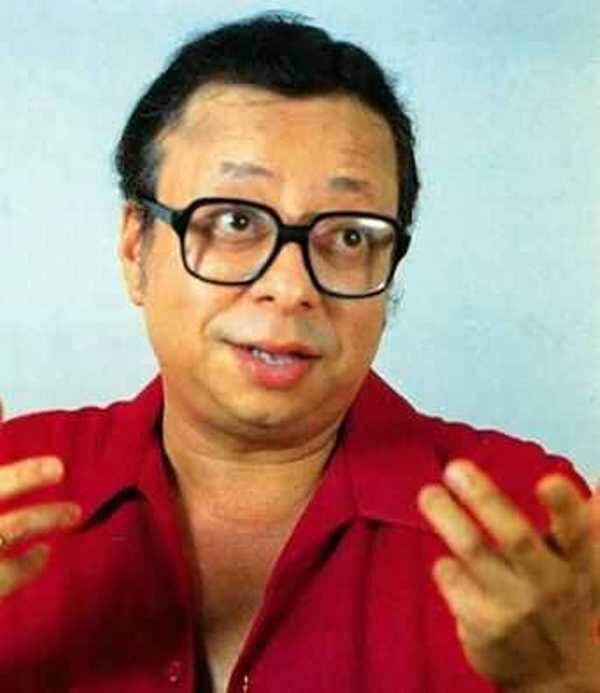 R. D. Burman is an Indian music director, composer, and singer. He is popularly attributed as 'Panchamda' and is regarded as one of the prominent composers of Indian Music Industry.
Wiki/Biography
R. D. Burman (full name Rahul Dev Burman) was born on 27 June 1939 (age 55 years at the time of death) in Calcutta, Bengal Presidency (now Kolkata), British India. His zodiac sign is cancer.
He did his schooling from a school in West Bengal. His father put him into training first under the Tabla Maestro, Brajen Biswas. He got trained by Ustad Ali Akbar Khan and Ashish Khan for sarod and Samta Prasad for tabla in Mumbai. Burman considers Salil Chowdhury as his mentor.
Family, Caste & Wife
He belongs to a music rich Bengali family. His father Sachin Dev Burman (S. D. Burman), was a music director and singer. His mother Meera Dev Burman was a lyricist.
Burman met Rita Patel, one of his fans, in Darjeeling. She made a bet with her friends that she would go on a movie-date with Pancham. Rita and Burman got married in 1966 and divorced in 1971.
He then got married to Asha Bhosle in 1979. However, towards the end of his life, they did not live together.
R. D. Burman has three step-children; Varsha Bhosle (singer), Anand Bhosle (film producer), Hemant Bhosle (film score composer).
The three are the children from Asha's first marriage with Ganpatrao Bhosle.
Career
When he was nine years old, he composed his first song "Aye Meri Topi Palat Ke Aa," which his father used in the film "Funtoosh (1956)."
He composed one more song "Sar Jo Tera Chakraaye," which his father included in the movie "Pyaasa (1957)."
He then started assisting his father, S. D. Burman. He worked together with his father in the films like Chalti Ka Naam Gaadi (1958), Kaagaz Ke Phool (1959), Tere Ghar Ke Samne (1963), Bandini (1963), Ziddi (1964), Guide (1965) and Teen Devian (1965). In 1959, he started his professional career as a music director with the movie "Raaz," but the film was never released due to some reasons. His first released film as a music director was "Chhote Nawab (1961)."
His first success as a music director was with the film "Teesri Manzil (1966)." He made his debut as music director in Telugu films with the movie "Rocky (1987)."
His debut in Tamil film industry as a music director was with the movie "Poo Mazhai Pozhiyuthu (1987)."
As A Singer
He sang the famous song, "Mehbooba Mehbooba." The song was listed No.24 in 1975 and No.6 in 1976 by Binaca Geetmala. It is also the only song which got him a nomination for the Filmfare Award for the Best Playback Singer. He did playback singing and also composed their scores in almost 18 films.
Awards
Filmfare Awards
Best Music Director for the film "Sanam Teri Kasam" in 1983
Best Music Director for the film "Masoom" in 1984
Best Music Director for the film "1942: A Love Story" in 1995
Awards/ Places Named After Him
Filmfare RD Burman Award for New Music Talent
The Brihanmumbai Municipal Corporation named a public square (chowk) in Santa Cruz after R. D. Burman in 2009
On May 2013, India Post launched a special commemorative 'Postage Stamp' featuring R. D. Burman's picture 
On his 77th birthday anniversary, Google had a doodle of Burman on its Indian home page. 
Signature
Favourite Things
Food: Biryani, Fish Kalia, Mutton Dishes, Crabs & Prawns, Goan Stews, Sarapatel
Death
R. D. Burman died on 4 January 1994 in Bombay (now Mumbai), Maharashtra due to a heart attack.
Facts
He used to like cooking and watching sports.
His maternal grandmother used to call him 'Tublu.'
His nickname Pancham is a legend in itself. Some stories claim that when he was a child, his cry sounded similar to the fifth note (Pa), G scale of music notation. Another one says that when he used to cry, he used to cry in five different notes; as 'Pancham' means five in Bengali. One of the other legends says that once Ashok Kumar came to visit the baby Rahul, he kept on uttering the syllable, 'Pa' continually, so, he nicknamed the boy as 'Pancham.'
Once in his childhood, his father, S. D. Burman, asked him, "What do you want to become?" Pancham replied, "I am good at cycling and playing mouth organs, and I can create my own tunes."
He knew how to play a mouth organ. Pancham played the instrument for his father's composition "Hai Apna Dil To Aawara," from the film "Solva Saal (1958)."
He has even tried his hand in acting during the initial phase of his career; he appeared in films like Bhoot Bangla (1965) and Pyar Ka Mausam (1969).
In 1969, his father S. D. Burman fell ill during the making of the film "Aradhna (1969)." Pancham then took over as associate composer of the film and completed the music of the film. He composed the famous track "Kora Kagaz Tha Ye Man Mera."
Mehmood first approached S. D. Burman, for his film "Chhote Nawab (1961)" but S.D. Burman rejected the offer giving the reason that he was unavailable. At his meeting with S.D. Burman, he noticed Pancham playing the Tabla and signed him as a music director for the film.
He composed the song "Musafir Hoon Yaaron" from the film "Parichay (1972)" when he was at a hotel after he separated from his first wife, Rita Patel.
He penned the lyrics for the English song, "I'm Falling In Love With A Stranger." The song was played in the background for a scene, where Praveen Babi and Amitabh Bachchan meet at a bar in the film.
He lost his father in 1975. After his death, he composed a lot of hit songs for the films like Sholay (1975), Hum Kisise Kum Naheen (1977), Kasme Vaade (1978), Khubsoorat (1980), and many more.
In the late 1980s, Pancham was overshadowed by Bappi Lahiri and several other music composers. Many of his compositions flopped, and filmmakers stopped choosing him as a composer for his films.
In 1986, he composed four songs from the film "Izazat," which were written by Gulzar and sung by Asha Bhosle. He was highly praised for his work, and both Gulzar and Asha bagged National Awards for the song "Mere Saman" from the film.
His Latin America rock album, "Panthera" was released on 6 January 1987. The album was recorded in 1983/1984 in the US.
In 1988, he suffered from a heart attack and also went for a bypass surgery a year later in London.
The last film that he signed was a Malayalam film, Thenmavin Kombath (1994), but he couldn't compose for the movie due to uncertain death.
The films like "Janam Se Pehle (1994)," "1942: A Love Story (1994)" and "Ghatak: Lethal (1996)," which contained his compositions were released after his death. He was even received Filmfare Award for the Best Music Director for the film "1942: A Love Story (1994)" posthumously.
He was very close to Rajesh Khanna, and Kishore Kumar and the triad have worked together in more than 32 films.
The story of how Pancham met Kishore Kumar is fascinating. He was in a studio, and he saw Kishore sitting on the wall of the studio. Kishore was wearing a muffler, a cap, and was holding a black stick. Kishore imitated everyone who was passing by the road, just like a monkey. When Burman went to the recording rooms with his allies, Kishore followed them to the recording room. Describing the scene Pancham says, "jo jo gana gatey the unka satyanash karte hue woh khud gaana gaane laga (Annihilating the ones who used to sing, he himself started singing a song)." When Pancham asked him as to why he was doing so, Kishore replied, 'I am an orphan. Nobody looks after me. Please give me a chance'. Pancham laughed at Kishore, and that is how their friendship began.
He has composed music for nearly 331 films, which include 392 Hindi, 31 Bengali, 2 Oriya, and a Tamil and Marathi films. He has also composed for five television serials in both Marathi and Hindi.
His singing style was highly influenced by American Vocalist and trumpeter, Louis Armstrong.
He used to call Gulzar, "Safed Kauwa (white crow)" because Gulzar always wore red and Gulzar used to address him as, "Lal Kauwa (red crow)" because Pancham liked the colour red.
He was so much into music that he even dreamt of it. Chaitanya Padukone, a journalist who considers Pancham as his mentor, describes instances where he would be taking his interview, and suddenly he stood up and went to his arranger Babloo Chakravorty and told him of his ideas. Chaitanya adds, "He would do this very often — stop mid-sentence, and then go and talk to Babloo-da and say, 'Yahaan aisa music rakho, yahaan silence rakho' and then return to the interview."
Chaitanya Padukone also wrote his biography entitled, "R.D. Burmania: Panchamemoirsa." The book was published in 2016.
He was always open and honest about his musical sources. His song, "Mehbooba Mehbooba" from the film "Sholay (1975)" was inspired by "Say You Love Me (by Demis Roussos)."
He used different techniques to create his scores, for "Mehbooba Mehbooba" from the film "Sholay (1975)" he blew into the can of music bottle to make his rhythm. While, for Chura Liya from "Yaadon Ki Baaraat (1973)", he used saucers and cups to create tinkling sounds.
He is considered as the first music director to combine the Indian semi-classical music with guitar strokes. The song "Raina Beeti Jaye" from "Amar Prem (1972)" featured Guitar with Santoor.
His documentary "Pancham Unmixed" based on his life was released in 2008. The documentary was directed by "Brahmanand S. Siingh," who also made the documentary of Jagjit Singh.