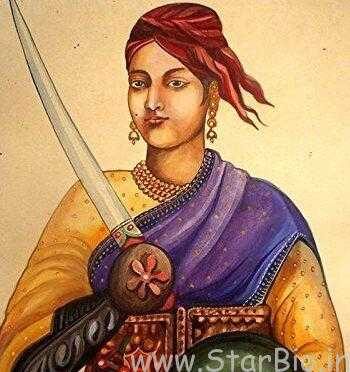 Rani Lakshmibai was the queen of Maratha-ruled princely state of Jhansi, now located in the Jhansi district of Uttar Pradesh. She was one of the prominent leaders during the Indian Rebellion of 1857 against the British Raj. She strived to protect her territory from the British invasion. Rani was acclaimed for her bravery and patriotism during the British Raj. Check out Lakshmibai's Age, Family, Husband, Biography, Death and more.
Biography/Wiki
Rani Lakshmibai was born on 19 November 1828 in Varanasi, Uttar Pradesh, India. Her actual name was Manikarnika Tambe. Her father worked for the court Peshwa Baji Rao II of Bithoor district, who taught Rani horse riding, fencing, shooting and the use of other weapons. Rani was unconditionally supported and motivated by her father which made her grow to be an independent and courageous girl. She was educated at home and was trained in martial arts and sword fighting. She married Maharaja of Jhansi after which she was designated as Lakshmibai according to the traditional Indian royalty and in the glory of Hindu Goddess 'Lakshmi'. Her fearless courage to fight against the British invasion and to protect her territory against the Doctrine of Lapse, renowned her to become the heroic Jhansi Lakshmibai. She was entitled as 'Indian Joan of Arc' for being a renowned freedom fighter of India's first war for Independence. 
Family, Husband & Caste
Rani Lakshmibai was born into a Marathi Brahmin family to Moropant Tambe and Bhagirathi Sapre. Her nickname was Manu. She lost her mother at a very young age of 4 years. Her father raised her in an unconditional way and supported in all her endeavours.  Her close friends and companions since childhood were Nana Sahib (Nana Rao Peshwa) and Tantia Tope, who later helped her during the revolt of 1857.
On 19 May 1842, at the age of 14 years, Rani married Maharaja of Jhansi, Raja Gangadhar Rao Newalkar. Raja Gangadhar's first wife died before having a child to succeed his throne after him. In 1851, Rani Lakshmibai and Raja Gangadhar were blessed with a son and named him Damodar Rao. However, the child could not survive and died from a chronic illness after 4 months. Later, in the presence of British Political Officer, the couple adopted a child Anand Rao, the son of Raja's cousin and named him after their deceased child, Damodar Rao. It is said that, even after adopting a child, Gangadhar could not give up on his deceased child because of which his health started deteriorating and eventually he passed away in 1853.
The legend of Rani Lakshmibai
After the death of Raja Gangadhar Rao, as per his will, their adopted child, Damodar Rao, was to become his legal heir and Rani Lakshmibai to be viceroy of Jhansi during her lifetime. However, Lord Dalhousie who was the Governor-general of India in 1853,  refused to accept the adopted child of Raja Gangadhar Rao as their legal heir and implemented Doctrine of Lapse for the annexation of the territory of Jhansi. According to this Doctrine, the British annexed any state whose ruler died having no legal male heir to take up the throne. Nevertheless, Rani Lakshmibai refused to surrender Jhansi to British. With the help of an Australian Lawyer, John Lang, she filed a petition in London to hear her case in regards to opposing the annexation of Jhansi. Rani's plea was rejected. According to the sources, it was one of the factors responsible for the 1857 Indian Rebellion.
1854 :: Petition of Queen Laxmi Bai Against East India Company Opposing Annexation of Jhansi Under Doctrine of Lapse Policy .

Petition Was Filed by Australian Lawyer John Lang After Meeting Queen Laxmi Bai In Jhansi pic.twitter.com/QrvDBzmbsF

— indianhistorypics (@IndiaHistorypic) June 18, 2018
During the time of Doctrine of Lapse, East India Company acted as both, the Judge as well as the Defendant with no proper court of law. In 1854, after multiple rejections of Rani's appeals against Doctrine of Lapse, Lakshmibai was granted a pension of ₹60,000/- and was ordered to move to Rani Mahal leaving Jhansi fort in Jhansi. However, Lakshmibai was persistent in protecting the throne of Jhansi with respect to her husband's will and for her adopted son. She intensified Jhasi's defences accumulating a 'volunteer army' of 14000 rebellions, which includes many brave warriors like Tantia Tope, Nana Rao Peshwa, Gulam Gaus Khan, Dost Khan, Khuda Baksh, Deewan Raghunath Singh, Deewan Jawahar Singh and women warriors such as Jalkari bai, Sundar-Mundar, and many more. Women were given military training and strengthened them for battle against the British troop.
On 10 May 1857, the Indian Rebellion in the form of the mutiny of sepoys arose as a response to the oppressive rule of the British in Meerut. Gradually, unrest began to spread in various territories of India and the First War of Indian Independence arouse. Left with no other option and to gain back control over the Indians, British were focused to crush the rebellion. In the meanwhile, Lakshmibai was given permission to raise a body of armed men for her own protection by Captain Alexander Skene. She defended Jhansi from being invaded by the neighbouring armies of Orchha and Datia whose intention was to divide Jhansi among themselves. Under the leadership of Lakshmibai, Jhansi was peaceful in the midst of the rebellion.
Lakshmibai made her army much stronger during her reign for any battle against the British. She kept an acquaint with Tantya Tope, Nana Sahib and her allies Raja Mardan Singh of Banpur. In 1858, 'General Hugh Rose' seized the fort of Jhansi with four columns, assaulting the defences at different points, and killing those who tried to escalate the walls. But Rani was reluctant to surrender and fought against the British for over 10 days proclaiming with rage "Mai Apni Jhansi Nahi Dungi" (I will not surrender my Jhansi). Meanwhile, an army led by Tantia Tope which attempted to relieve Jhansi and get back Lakshmibai to freedom was also defeated by the British troops. Lakshmibai's army could no longer hold against the British forces and within few days the British breached the city walls and conquered the city. However, under the mounting pressures, Lakshmibai, with the help of a small force of palace guards, managed to escape the fort by jumping from a palace wall with her horse, Badal.
Along with her son Damodar Rao, Rani decamped to Kalpi with her small force and joined other rebel forces including Tantia Tope. While defending Kalpi along with her forces, Lakshmibai once more lost against the overpowering British troops. Left with no alternative, Rani along with Tantia Tope moved to Gwalior and joined other Indian forces which led the city. According to the reports of the battle, Rani's father, Moropant Tambey, was killed by the British after the defeat of Jhansi.
Cause Of Death
While fighting against the British at Gwalior city, Lakshmibai was dictated towards the eastern flank which was described to be arduous to defend. On 18 June 1858, enrobed in warrior's clothes, Rani progressed into the battle in Gwalior. While battling against the 8th Hussar in Kotah-ki Serai, Rani succumbed to her injuries and died. She battled with an undying patriotism till her last breath and achieved martyrdom consequent to her death. After three days, Gwalior was captured by the British.
As per Rani's wish that her body not to be captured by the British troops, the rebel army mourned her for 2 days before cremating her body at a nearby Gangadas Mutt by a hermit. Rani's adopted son, Damodar Rao, was given pension and cared for by the British Raj. He later died on 28 May 1906, at the age of 58 years in the city of Indore.
Facts
While Indian National Army was created, the first female unit of the army was named after Jhansi Lakshmibai as the epitome of female bravery in India.
In 2009, a letter written by Rani Lakshmibai in Persian Language citing the hypocritical tricks of Lord Dalhousie for annexing the kingdom of Jhansi was found in the British Library in England.
It was stated that General Sir Hugh Rose flattered Rani to be 'remarkable for her cleverness and perseverance' and that she had been the 'most dangerous of all the rebel leaders'.
The place where Rani Lakshmibai was cremated is now serving as the 'Samadhi Sthal of Rani Lakshmibai', as her gratitude in Phool Bagh area of Gwalior, Madhya Pradesh.
Subhadra Kumari Chauhan, an Indian poetess, wrote a poem 'Jhansi ki Rani' which is regarded as the most popular literary piece in her gallantry and is still recited by school children.
Shubha Mudgal, an eminent Indian singer sang an influential ditty, Khoob Ladi Mardani, on the occasion of 150 years of the 1st Freedom movement, in the Parliament.
In the honour of Rani Lakshmibai, various movies, as well as TV shows based on her life story, were made some of which are Jhansi Ki Rani Laxmibai (2012), Jhansi Ki Rani (1953), and an upcoming Bollywood movie 'Manikarnika' starring Kangana Ranaut as Rani Lakshmibai.