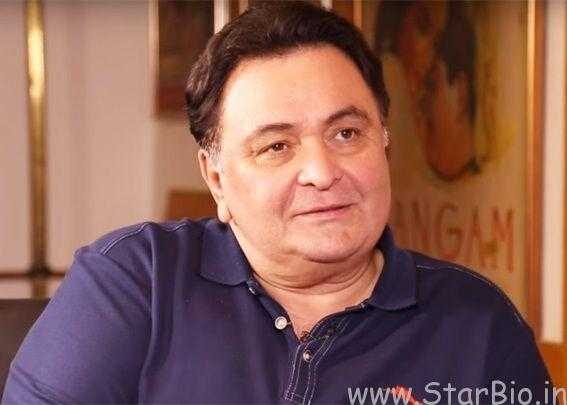 Rishi Kapoor is a legendary Indian Actor. His magnificent acting career tells us his stature in the film industry. Starting his career with the film 'Bobby' in 1973, Rishi has worked in more than 150 films by now. Other actors can be copied and mimicked, but Rishi Kapoor is one such original actor, who can hardly be copied. Rishi Kapoor is the only actor in the Kapoor family history, who has worked under the direction of his father Raj Kapoor and brothers: Randhir Kapoor and Rajiv Kapoor. Rishi Kapoor is one such actor who had seen the evolution of the Indian Cinema. Whether it is the black & white cinema or coloured, Rishi has worked amazingly on both. His name will hold a place of pride in the history of Indian Cinema.
Biography/Wiki
Rishi Kapoor was born on 4 September 1952 in a Punjabi family to Raj Kapoor and Krishna Kapoor in Mumbai. He is the grandson of the pioneer of the Indian Cinema and a great filmmaker Prithviraj Kapoor. Rishi was nicknamed as "Chintu" by his elder brother Randhir Kapoor. Since childhood, he was very fond of acting. He used to make laughing and crying expressions in the front of the mirror.
He was very naughty in his childhood. Rishi Kapoor was first seen in a song of the film "Shree 420," along with his brother and sister.
When his father, Raj Kapoor, was making 'Mera Naam Joker' in 1970, He was searching for a young Joker. Then, he came up with an idea that Rishi would act in his film as a young Joker. At that time, Rishi Kapoor was 17 years old.
Family
Prithviraj Kapoor and Ramsarni Mehra were the grandparents of Rishi Kapoor. He is the third child of legendary filmmaker Raj Kapoor and Krishna Kapoor.
He has two brothers, actor Randhir Kapoor (Actor) and Rajiv Kapoor (Filmmaker), and two sisters, Ritu Nanda and Rima Jain.
Shammi Kapoor and Shashi Kapoor were his uncles and Nandi, Devi, and Urmila Sial were his Aunts.
Famous Actresses; Kareena Kapoor, and Karishma Kapoor are his niece. Nikhil Nanda (Businessman), Aadar Jain (Actor), Armaan Jain (Actor) are his nephews.
After 5 years of courtship, Rishi married Neetu Singh on 22 January 1980.
On 15 September 1980, his first child, his daughter Riddhima Kapoor was born and his second child, his son Ranbir Kapoor (Actor) was born on 28 September 1982. His daughter Riddhima Kapoor (Designer) got married in 2006 to Bharat Sahni and has 2 children.
Career
He completed his schooling from Campion School, Mumbai, and Mayo College, Ajmer. He was not good at study, so he could not pass in High School. But he made a bright career in the film industry. As a child artist, he appeared in his father's directed film "Mera Naam Joker," but as a lead actor, he made his debut from "Bobby" that released in 1973. Film 'Bobby' was the biggest hit at that time. His pair with Dimple Kapadia became a hit overnight. After that, he has worked in many films such as Laila Majnu, Amar Akbar Anthony, Naya Daur, Naseeb, Sindoor, Henna, Deewana, Prem Granth, Fanna, Agneepath, etc.
In a multi-starrer film, Houseful 2, he appeared with his brother Randhir Kapoor for the first time after 'Khazana' in the mid-1980s.
Awards/Honours/Achievements
In 1970, he won the National Film Award for the film, Mera Naam Joker. He received the Filmfare Award for Best Actor for the film, Bobby. Russian government honoured him in 2009 for his contribution to Cinema. In 2016, Rishi was felicitated at the opening ceremony of the 1st BRICS Film Festival by then Union Minister of State for Information and Broadcasting Rajyavardhan Singh Rathod.
Controversies
In 2015, his beef eating remark on Twitter created a huge controversy. He was denounced heavily by the Hindu hardliners.
After he criticized Indian National Congress for naming public assets after Gandhi dynasty, the Congress supporters named a public toilet after Rishi Kapoor in response to his tweet.
In 2016, Rishi created a controversy again at Actress Asin and Rahul Sharma's marriage. Reportedly, Rishi was annoyed with the loud music and the lighting at a party at the marriage venue. Rahul Sharma had to intervene there. The party lasted only an hour after Rishi left.
Net Worth
According to 2017, his net worth is more than ₹275 Crore or $40 million.
Interesting Facts
Rishi played the role of younger Raj Kapoor in the movie- Mera Naam Joker. His performance was critically acclaimed by the audience.
His debut film Bobby's scene, when Rishi meets Dimple in her house at night, was inspired by the real-life meeting of Raj Kapoor and Nargis.
In the film, Amar Akbar Anthony (1977), Rishi (character Akbar Illahabadi) called Neetu with her real name "Neetu" in the first scene. She was called by this name in the whole film.
Initially, Neetu was irritated by Rishi Kapoor, but once, Neetu went abroad for her film shoot. When she returned, Rishi went to her and said that he missed her. Neetu also missed Rishi. They fell in love and got married in 1980.
He underwent depression for some time when his movie, Karz turned out to be a big flop.
Rishi also tried his hands in direction and in 1999, he made his directorial debut with the film "Aa Ab Laut Chalen" starring Aishwarya Rai and Akshaye Khanna.
Rishi is considered as the original 'Prince of Romance' in Bollywood.
He is also very popular in Nigeria, and people in Nigeria have nicknamed him, "Mace," which means woman.
20 Bollywood actresses made their debuts opposite him.
His last film as a romantic actor was 'Karobar,' that released in 1998.
'Towel Dropping' act has been done by Both Rishi Kapoor and his son Ranbir Kapoor in their debut films. Rishi did it in his debut film 'Bobby' in 1973 while Ranbir did it in Saawariya in 2007.
He is not interested in social media, but actress Anushka Sharma and Actor Abhishek Bachchan convinced him to join Twitter.
When Paresh Rawal rejected the role for the movie "102 Not Out," Rishi took that role and Amitabh Bachchan and Rishi reunited after 27 years in the film industry.
On 15 January 2017, he released his autobiography, "Khullam Khulla: Rishi Kapoor Uncensored" in which he disclosed that to get the best actor award for his role in his debut film, 'Bobby,' he had paid ₹30,000.
In 2018, it was speculated that he had stage III cancer. However, his brother Randhir Kapoor rubbished the report and said, "Rishi himself doesn't know what he's suffering from. He has not even started undergoing tests there; how can people speculate that he has cancer and that too, one that has escalated to an advanced stage." Rishi went to America for his health tests and was accompanied by his son Ranbir and wife Neetu. He tweeted about this.