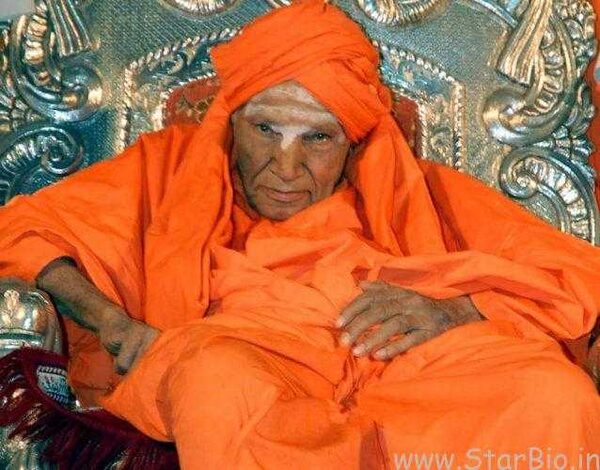 Shivakumara Swami was an Indian Spiritual leader and Humanitarian. He was the head of the Siddaganga Matha in Karnataka, India and was the founder of Sri Siddaganga Education Society. Swamiji is considered the most respected adherent Lingayatism, a sect of Shaivism in Hindu Religion.
Biography/Wiki
Shivakumara Swami was born on 1 April 1907 (Age: 111 years, 295 days in January 2019) in Veerapura, a village near Magadi in the Kingdom of Mysore (now, in Karnataka). His childhood name was Shivanna. When he was eight years old, his mother passed away. He completed his primary education in an Anglo-vernacular school in Nagavalli, a village in present-day Tumkur district, Karnataka. In 1926, he passed his matriculation. Meanwhile, he was also a student at Siddaganga Matha (or Mutt) at Tumkur district in Karnataka. For his higher education, he enrolled at Central College of Bangalore to study art and science. He had to drop out of his college, as, he was named the successor of Uddana Shivayogi Swami to head the Siddaganga Matha (or Mutt).
Family
Shivakumara Swami was born to Honnegowda (Father) and Gangamma (Mother). He was the youngest of all thirteen children of his parents.
Career
In 1930, when he was doing his graduation, he was chosen the head of Siddaganga Matha or Mutt but did not hold the position until the death of the incumbent head, Shivayogi Swami in 1941. On that occasion, he changed his name from Shivanna to Shivakumara. In the same year on 3 March, he entered the monk order, 'viraktashram' and assumed a pontifical name, Shivkumara Swami.
Throughout his life, Swami laid the foundation of 132 educational institutes. By his philanthropic works, he was respected by all communities. People from all religions, castes, and creeds were helped by his philanthropic activities. He also established some shelter houses and provided food for the poor. In 2007, the Government of Karnataka praised his works and celebrated the centennial birth anniversary of Swamiji. Former President of India, A. P. J. Abdul Kalam also visited Swamiji at Tumkur and hailed the humanitarian and social works of Swamiji.
Awards/Honours
In 2007, Swamiji was given the Karnataka Ratna, the highest civilian award in the state of Karnataka. In 2015, the Government of India bestowed him upon the third highest civilian award of the country, Padma Bhushan.
Death
For the last two or three years, he was suffering from many diseases one after another. On 1 December 2018, he was hospitalised due to liver tube infection. On 8 December, he underwent a gallbladder removal surgery. The same year, on 28 Demeber, he was diagnosed with a lung infection. On 11 January 2019, he was placed on the Life Support as his condition worsened. At 11:44 a.m. on 21st January 2019, he departed this life at the age of 111 years.
Karnataka govt announced state holiday on 22 January 2019 to mourn Lingayat seer Shivakumara Swamiji's death.
Facts
His other names were; Siddaganga Swamijigalu, Nadedaduva Devaru, Kayaka Yogi, Trivida Daasohi, etc.
His followers and disciples used to call him, 'Walking God.' It was also his nickname.
At the time of his death, he was one of the oldest persons in the country.
The 14th Prime Minister of India, Narendra Modi, also praised his humanitarian works and visited him in September 2014.
Congress President, Rahul Gandhi also praised his works and met him in 2018. At the demise of Swamiji, he also offered his condolence.
I am sorry to hear about the passing of Shivakumar Swami Ji, Pontiff of the Siddaganga Mutt. Swami Ji was respected & revered by millions of Indians, from all religions & communities. His passing leaves behind a deep spiritual void. My condolences to all his followers.

— Rahul Gandhi (@RahulGandhi) January 21, 2019