Swati Piramal Wiki, Age, Husband, Caste, Biography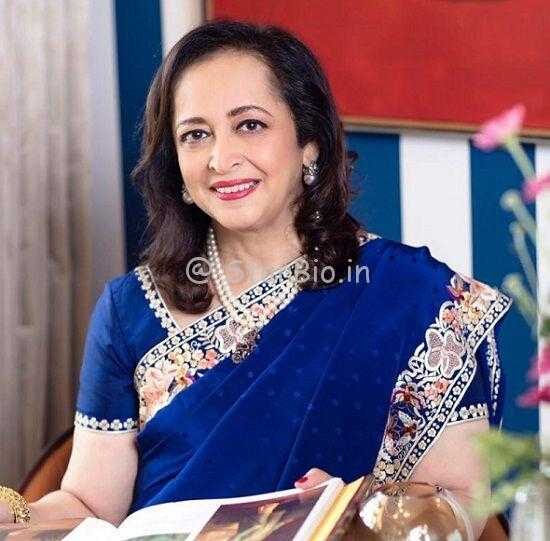 Swati Piramal aka Dr Swati Piramal is a popular name in the field of health and research, and also in the area of business. She is famous not only for being the would-be mother-in-law of the Isha Ambani, the daughter of India's Richest Man, Mukesh Ambani but also for being an empowered woman who is known across the globe for her contribution in the medical field. Check out Swati Piramal Wiki, Height, Weight, Age, Husband, Caste, Family, Biography & More:
Biography/Wiki
Swati Piramal was born as Swati Shah in a family with a business background. In the mid-70's she met Ajay Piramal, a businessman and her future husband. Ajay was into his family's textile business. Ajay and Swati both fell in love and got married in 1976. Swati was quite good at studies and continued her education even after her marriage and recieved an MBBS degree.
In 1982, due to the Datta Sawant strike the textile business got hampered in Mumbai. Swati advised her husband to start a pharma business, hence in 1988, after a struggle and investing around 16 crore rupees, Ajay Piramal acquired a pharma company with the name 'Nicholas Laboratories'. He changed the name of the company to 'Nicholas Piramal'. In the same year, Swati was appointed as the Vice Chairperson of the 'Piramal Enterprises Limited.' Their decision to join a new business became the best decision of their life.
Swati Piramal not only works for her family business but also became the part of many national, international, private and government projects and corporations. She has been working as the team head in the various research programs for the cure of the disease like cancer, diabetes, arthritis, osteoporosis, malaria, epilepsy, polio, arthritis, inflammation and infectious diseases, etc. She is also the member of the board of directors of various institutions and organisations including Harvard School of Public Health, IIT Bombay, and the Harvard Business School. She has proved herself in the various fields whether it's in the medical area or the business.
Physical Appearance
Swati Piramal is 5'2″ feet tall lady with a weight of approximately 65 kgs. She has g Black hair which she mostly colours into brown. Her eye colour is also Brown.
She is a graceful woman with a classic taste for fashion. She is mostly seen in Indian wear.
Family, Caste & Boyfriend
Swati Piramal was born on 28 March 1956 in a Gujarati family, in Mumbai. Her father Niranjan Shah, a businessman, runs a textile business in Mumbai, and her mother Arunika Shah is a chef who runs a catering business named as 'Celebrate'. She has a brother named Nirav Shah who is also in his father's business.
In the mid 70's she met Ajay Piramal and fell in love. In 1976, the two love-birds got married with their families blessings.
They have two children a son named Anand Piramal and a daughter Nandini Piramal. Anand Piramal is the founder of Piramal Realty and serves the Piramal Group as the Executive Director. Anand is engaged to Isha Ambani, the only daughter of the richest man of India, Mukesh Ambani. The two are childhood friends, and their families also share a 40-years-long friendship. The couple is said to get married in the December 2018. Swati's daughter Nandini Piramal also works as the Executive Director for Piramal Enterprises Ltd. She is married and has two kids.

Career
Swati Piramal was a studios kid in her childhood. She completed her schooling from Walsingham House School, Mumbai and St. Xavier's College, Mumbai. She pursed her MBBS degree after she got married to Ajay Piramal from Mumbai University. She was appointed as the Chairperson of the 'Piramal Enterprises Limited.' in 1988.
In 1992, she received her Master's degree from the Harvard School of Public Health. Later, she founded the Gopikrishna Piramal Hospital which is in Mumbai. She is the lead scientist of the research team in the research for the cure for cancer, diabetes, infectious disease, etc.  She also works for the government of India as the member of the Scientific Advisory Council and the Council of Trade of the Prime Minister. She also serves as the member of the board for the organisations like Harvard School of Public Health, the Harvard Business School, and IIT Bombay.
Facts
She was 36 and had her two kids when she moved abroad for her master's degree in 1992.
She founded 'Gopikrishna Piramal Memorial Hospital' in 1983. She started a campaign against polio, after watching a disabled girl suffered from polio. Swati chose the idea of donating a meter of printed cloth to the children who completed their three vaccines of polio. Which helped her provide the vaccine to a considerable number of children. She also used this strategy for a few other campaigns including awareness for HIV AIDS.
Swati Piramal used to perform at the street plays for awareness for various diseases and their causes, with her college mates.
She is involved in the research work for the cure and study of diseases like cancer, diabetes, osteoporosis, epilepsy, polio, arthritis, heart disease, and infectious diseases, etc., as the lead scientist.
She was on the boards of various financial institutions including ICICI, SBI, Nestle India and LIC.
Swati Piramal also works for women empowerment and helps the women of rural India to find their paths for independence. Likewise, she is also involved in the programs related to community education to support the talented but poor kids to get a better education.
She has also started a few programs like HMRI – a mobile health service, which prevents the people of the rural area from getting affected by various diseases.
She was one of the board members of the Harvard Board of Overseers (2011). She also served as the Dean's Advisor to Harvard Business School and Public Health, in the same year.
In the past 90 years, she is the first woman to be the President of India's ASSOCHAM (Apex Chamber of Commerce).
Swati Piramal is in the Scientific Advisory Council and the Council of Trade of the Prime Minister of India.
She has won many awards for her contribution to various fields including BMA Management Woman Achiever of the Year Award (2004-05), Chemtech Pharma Award for 'Outstanding Contributions' in Pharma Biotech industries (2006), Global Empowerment Award in UK, at the London Hilton (2010), Lotus Award at New York, from Children's Hope India, for Leadership and Philanthropy (2012) and the Padma Shri award, by the President of India.
She has a keen interest in art and culture as well. Her favourite painter is Leonardo da Vinci, and favourite poet is Rumi.