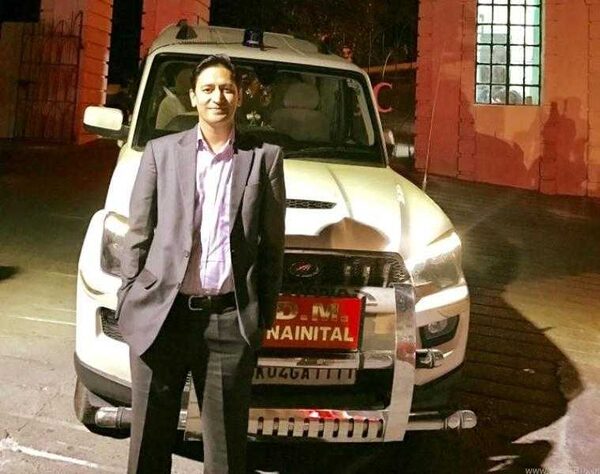 Deepak Rawat is a firebrand IAS officer from Uttarakhand in India. He is also one of the most popular IAS officers on social media.
Wiki/Biography
Deepak Rawat was born into a modest family on 24 September 1977 (age 41 Years; as in 2018) in one of the most popular hill stations in India- Mussourie. His Zodiac sign is Libra. While growing up in Musoourie, Deepak had developed an interest in collecting scraps like old watches, used polish boxes, worn-out utensils, etc. He was so much interested in scraps that he wanted to become a scrap dealer. He did his schooling from St. George's College in Mussourie.
Though he wasn't interested in taking science in his secondary classes, he had to take that under his family's pressure. However, in his higher studies, he opted humanities over science. He moved to Delhi from Mussourie to pursue his higher studies, where he took admission at Hansraj College, Delhi University.
After completing his graduation in History from Hansraj College, Deepak attended Jawaharlal Nehru University (JNU) for his post graduation in History. He also did his M.Phil. from JNU. When he had turned 24, his father refused to give him pocket money from then onwards and advised him to bear his expenses on his own. Interestingly, his JRF results were announced within a few days of his father's advice, and he started getting ₹8000/month as a stipend, which was sufficient to bear his expenses. It was there while studying in Delhi that he came in the contact of some students from Bihar who were preparing for the Civil Services. Soon, he became friends with them and got inspired by them to prepare for the UPSC Examination. However, he couldn't get success in his first two UPSC attempts. Though he cleared the examination in his third attempt, he couldn't get the desired rank to become an IAS officer. He again prepared for the examination, and ultimately got the desired rank to become an IAS officer in his last attempt.
Family, Caste & Wife
Deepak Rawat was born into a Rajput Kshatriya Family. There is not much information about his parents and siblings. He met his future wife Vijeta Singh in Delhi; when he was studying in Hansraj College. Soon, they fell in love and got married to each other.
They went on to have a daughter named Dirisha and a son Divyansh.
His wife Vijeta is an officer in Judicial Services and has been a Metropolitan Magistrate at the Patiala House Court in Delhi.
Career
Deepak cleared the UPSC Examination in 2007. After his training from Lal Bahadur Shastri National Academy of Administration (LBSNAA) in Mussourie, Deepak Rawat became an IAS officer of Uttarakhand Cadre. Since then, he has served the country, especially the State of Uttarakhand, in various capacities. So far, Deepak Rawat has held the following posts:
District Magistrate Bageshwar in 2011
Managing Director of Kumaon Mandal Vikas Nigam in 2012
District Magistrate Nainital from 2014 to 2017
District Magistrate Haridwar in 2017
Controversies
In January 2018, a case was filed against him regarding an attempt to murder. He was accused of allegedly beating a priest in a closed room. He was also accused of hurting religious sentiments.
In December 2018, a Supreme Court bench led by CJI Ranjan Gogoi warned him not to play with court orders. Reportedly, Deepak Rawat, along with his junior, Roorkee Joint Magistrate Nikita Khandelwal, was on a demolition drive in Jaurasi Village, where he had violated the court's procedure.
Facts
In his childhood, he wanted to become a scrap dealer.
He was so much interested in electronic gadgets in his childhood that his father had even talked to an electronic shop owner for Deepak's job.
During his school days, Deepak used to inquisitively watch buses of Lal Bahadur Shastri National Academy of Administration in Mussourie; carrying the trainee IAS officers.
Anil Kumar Raturi, a senior IPS Officer from Uttarakhand and the DGP of Uttarakhand, has been his neighbour in Mussourie.
While preparing for the Civil Services, Deepak had kept journalism as his backup career; as he was always interested to become a journalist.
As an IAS officer, Deepak Rawat is known for his sudden inspections. Many of his videos attract thousands of views and comments on social media.
He is also an avid reader and loves to visit libraries whenever he gets time.
Deepak loves birdwatching and often shares the memories of his birdwatching on his social media platforms.
Deepak Rawat is a passionate music lover and has got a melodious voice. Many of his songs have become viral on social media.
He is also a sports enthusiast and loves to play various sports including Cricket and Badminton.
Deepak's favourite subject is Philosophy and he mostly reads the books on Philosophy by Camus and Nietzsche.