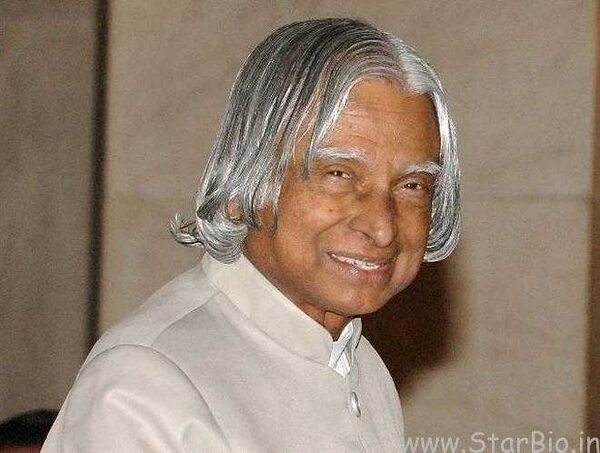 Dr. Avul Pakir Jainulabdeen Abdul Kalam is the name of Knowledge, Decency, Statesmanship, Patriotism, Glory, and Inspiration. Even if, he is no longer among us, but, his name and his deeds are and always will be motivating millions of youngsters on the planet. He still lives in the hearts of the millions of Indians. His journey from selling the Newspapers to be a President of the Nation is truly more than a miracle. Being a perfect embodiment of Science, he truly deserves to be called the 'Missile Man of India.' Life with simplicity and personality with high thinking were the two major weapons of Kalam to tackle the problems of life. His name will always be taken with pride in History.
Biography/Wiki
Avul Pakir Jainulabdeen Abdul Kalam was born on 15 October 1931 in a Muslim family in Rameswaram, Madras Presidency, British India. Kalam was the youngest of his five siblings. His father, Jainulabdeen was the Imam of a mosque and owned a boat. His father took Hindu pilgrims from Dhanushkodi (Now, uninhabited) to Rameshwaram or vice-versa. His mother was a homemaker. His forefathers had a good business of trading grocery back and forth between Tamil Nadu and Sri Lanka. Moreover, they used to ferry pilgrims between mainland Tamil Nadu and Pamban Island. Therefore, the family earned the title of "Mara Kalam Iyakkivar" (Wooden boat-steerers). When Pamban bridge was constructed and came into operation in 1914, his family business failed and property got lost over the time. When Kalam was a child, his family was poor and Kalam used to sell the newspapers in his hometown to support his family financially.
In his early school year, Kalam was an average student but was curious to learn. He evolved his interests in Mathematics and Physics. He completed his primary and secondary education in Schwartz Higher Secondary School, Ramanathapuram, Tamil Nadu, India. For his further education, he moved to St. Joseph's College, Tiruchirappalli, Tamil Nadu where he graduated in Physics in 1954. In 1955, he enrolled at Madras Institute of Technology to study Aerospace engineering. In Madras Institute of Technology, while working on a project, Dean was very dissatisfied with the lack of the progress of the project and threatened Kalam to revoke his scholarship. He gave Kalam a deadline of three days. Within three days, Kalam completed the project and impressed the Dean who later praised him, "I was putting you under stress and asking you to meet a difficult deadline." Kalam narrowly missed out on achieving a dream of becoming a fighter pilot as he was placed on the ninth spot but, only eight positions were taken in the Indian Air Force.
Family
Kalam was born to Jainulabiddin Marakayar (Imam) and Ashiamma Jainulabiddin (Housewife). He had three brothers: Kasim Mohammed, Mohammed Muthu Meera Lebbai Maraikayar, Mustafa Kamal and one sister who was eldest, Asim Zohra.
Throughout his life, he remained unmarried.
Career
After receiving education in Madras Institute of Technology, Kalam joined the laboratory of Defence Research and Development Organisation (DRDO), named Aeronautical Development Establishment. Initially, he designed a small hovercraft. Kalam was also a part of Indian National Committee for Space Research (INCOSPAR) committee under the renowned Indian Space Scientist, Vikram Sarabhai.
In 1963 and 1964, Kalam visited NASA's Langley Research Center in Hampton, Virginia; Goddard Space Flight Center in Greenbelt, Maryland; and Wallops Flight Facility. In 1969, he was transferred to the Indian Space Research Organisation (ISRO).  He was appointed the project director of the first satellite launch vehicle of India, SLV III, which successfully deployed Rohini satellite in near-earth orbit in July 1980. From the 1970s to 1990s, Kalam strived hard to develop the Polar Satellite Launch Vehicle (PSLV) and SLV-III projects, both of which were successful. In 1974, during the first nuclear test of India, Kalam was invited Raja Ramanna. During the 1970s, two projects; Project Devil and Project Valiant were directed by Kalam to develop ballistic missiles through SLV programs. At that time, then Prime Minister Indira Gandhi allotted secret fund to these programs.
From July 1992 to December 1999, Kalam was the chief scientific adviser to the Prime Minister and the secretary of  DRDO. During the Pokhran II nuclear test in 1999, he served as the Chief Project Coordinator, along with Rajagopala Chidambaram.
During the 2002 Presidential Election, he was nominated as President of India by the National Democratic Alliance (NDA) and backed by Samajwadi Party (SP) and the Nationalist Congress Party (NCP). He received the majority of the votes bagging 89% of the votes overall defeating his rival, Lakshmi Sahgal (A revolutionary during Indian Independence Movement and a former Army officer). On 25th July 2002, Kalam became the 11th President of India.
After leaving his President Office in 2007, Kalam became the visiting professor at the IIM, Shillong, IIM Ahmedabad, IIM Indore, Indian Institute of Science, Bangalore, etc.
Controversies
During his presidential tenure, he was denounced for his inaction in deciding the fate of 20 out of the 21 mercy petitions submitted to him. During his 5 years tenure, he acted only on one mercy plea.
In 2005, Kalam took a very controversial decision to impose president rule in Bihar.
In 2011, he was criticised for his stand on Koodankulam Nuclear Power Plant as he supported the establishment of the nuclear plant. He was denounced for not speaking with people and even he did not assure people of their safety.
Awards/Honours/Achievements
In 1981, he was awarded, Padma Bhushan by the government of India. In 1990, he was bestowed upon Padma Vibhushan. He was honoured by the country's highest civilian award Bharat Ratna in 1997.
In 1998, he was awarded Veer Savarkar Award by Government of India. Britain's Royal Society also awarded him the King Charles II Medal in 2007.
In 2009, he was given Hoover Medal by ASME Foundation, USA. In 2013, National Space Society, USA bestowed him upon Von Braun Award.
In his honour, the UP government changed Uttar Pradesh Technical University's name to A.P.J. Abdul Kalam Technical University. The name of Kerala Technological University was changed to A. P. J. Abdul Kalam Technological University after his death. In September 2015, the name of Wheeler Island, a national missile test site in Odisha was changed to Abdul Kalam Island in his honour. The name of a prominent road in New Delhi was changed from Aurangzeb Road to Dr. APJ Abdul Kalam Road.
Net Worth
His lifestyle was very simple. He did not own many things except some: 2,500 books, a wristwatch, a Veena, a CD Player, a laptop, 6 shirts, 3 suits, 4 trousers, and a pair of shoes, his ancestral house and a small site near the house in Rameswaram, Tamil Nadu.
Death Cause
On 27 July 2015, Kalam was flying to Shillong to deliver a lecture in Indian Institute of Management in Shillong. While climbing stairs of the flight, he felt unease but got well soon after taking some hour's rest in aeroplane. When he was delivering a lecture in the class, at 6:35 pm, he collapsed. He was rushed to a nearby Bethany Hospital. He was placed in ICU. But, at 7:45 pm, he took his last breath and died of Cardiac Arrest.
His last words to his aide, Srijan Pal Singh were: "Funny guy! Are you doing well?."
On 30 July 2015, with full state honours, he was laid to rest at Rameswaram's Pei Karumbu Ground. More than 3.5 lakh people attended the last rites including Narendra Modi (Incumbent Prime Minister of India).
Religious and Spiritual Views
He was a practicing Muslim. He used to offer Namaz daily and had fast during the month of Ramadan. However, he used to read Bhagavad Gita, a Hindu spiritual text also. He had respect for other faiths too. He often said, "For great men, religion is a way of making friends; small people make religion a fighting tool."
He was very impressed by Pramukh Swami Ji. Kalam considered Pramukh Swami Ji as his spiritual Guru. When he met Pramukh Swami Ji for the first time on 30 June 2001, he said that he was drawn to Swami Ji's simplicity.
Kalam described one incident of his meeting with Swami Ji. That incident took place just after the day of the terrorist attack on BAPS' Akshardham, Gandhinagar complex in September 2002; he said that Swami Ji prayed for the deceased as well as terrorists and sprinkled the holy water upon the site. Kalam was inspired by Swami Ji's calmness and compassion. Having been inspired by this incident, Kalam authored 'Transcendence: My Spiritual Experiences with Pramukh Swamiji.'
Famous Books 
His bibliography includes India 2020 (1998), Wings Of Fire (1999), Ignited Minds (2002), Indomitable Spirit (2006), Turning Points (2012), etc.
Interesting Facts
In his childhood, Kalam was very fond of reading books. He often used to borrow books from one of his brother's friends in his locality.
When Kalam was only 9 or 10 years old, the Second World War started. In an interview, he revealed that he had felt the travesty of the war as it had almost reached the doors of Rameswaram.
He used to read the Bhagavad Gita and Quran regularly and often used to play Veena along with that.
When he was in DRDO, he was the chief of the Integrated Guided Missile Development Program and developed 5 missiles: Nag, Akash, Trishul, Agni, Prithvi. During this period, Pokhran-II Nuclear Tests were conducted under his guidance in which Kalam played a crucial political and technological role along with the then Prime Minister of India, Atal Bihari Vajpayee.
Kalam was a hardcore vegetarian and was very fond of his mother's cooked food, such as sambar and rice with coconut chutney, Vendhya Kozhambu, and Puliyodare.
During his tenure as President of India, he used to donate his all savings to an Organisation, PURA (Providing Urban Amenities in Rural Areas).
During his Presidential tenure from 2002 to 2007, he installed a Manipuri style hut at the Rashtrapati Bhavan referring it as a 'thinking hut.' He used to sit in this hut in morning and evening. The hut was demolished when his tenure ended.
Media affectionately called him the "People's President" when he was the President of India.
Once he refused to sit on a special chair. According to him, he didn't want to make himself superior to others.
In November 2011, the United States apologised to Kalam for not following the appropriate procedures for expedited screening of dignitaries. When Kalam was on board to the USA in September 2011, he was frisked at the JFK airport.
He was very positive in nature, in 2001, he boarded a helicopter from Ranchi to Bokaro district, Jharkhand. he was informed about some issues with the helicopter's rotor, although, it was a death alarm for the crew of cockpit, he created a signature smile on everyone's face and advised the pilot not to be petrified.
Just after a day of his death, the government of Tamil Nadu announced that his birthday '15 October' would be celebrated as "Youth Renaissance Day" and state government further instituted "Dr. A.P.J. Abdul Kalam Award."
Throughout his life, he remained unmarried, so, he is the only bachelor president of India so far.
In 2011, in a film titled 'I Am Kalam,'  he was portrayed by a poor Rajasthani boy, Chhotu who renamed himself 'Kalam' in the honour of his Idol.
On 27 July 2017, Dr. A.P.J. Abdul Kalam National Memorial at Pei Karumbu was inaugurated by the Prime Minister, Narendra Modi. The memorial was built by DRDO.