Michael Bolton is an American-born multi-Grammy award-winning singer, songwriter, multi-instrumentalist, producer and director. Prior to his highly successful solo career, Bolton was the frontman of the short-lived hard rock band Blackjack performing under his birth name Michael Bolotin. Upon going solo in the early 1980s, Bolton ditched the hard rock and heavy metal genres for the more soulful pop-rock genre, a career-defining decision.
With well over 75 million records sold worldwide coupled with numerous awards and recognitions, Michael Bolton can be described as an all-around success. In addition to his long-running career as a rock musician, Bolton is currently involved in video directing as well as social activism.
Michael Bolton's Bio, Age
He was born Michael Bolotin on February 26, 1953, in New Haven, Connecticut. His parents were Helen (née Gubin) and George Bolotin both of Russian Jewish descent. He was raised alongside 2 older siblings, a brother named Orrin and a sister named Sandra.
Bolton began his career as a hard rock/heavy metal musician in 1975 under his birth name 'Michael Bolotin'. After recording 2 albums as a solo artist, he went on to form the hard rock band 'Blackjack' in 1978 alongside 3 other members. During the band's 2-year run, they released 2 albums, went on a small US tour and also opened for the legendary heavy metal musician, Ozzy Osbourne. Following the disbandment of Blackjack, Bolton auditioned for a spot in Osbourne's former band, Black Sabbath, however, he was unsuccessful. In 1983, he got signed by Columbia records as a solo artist under the name 'Michael Bolton'.
Under Columbia, Bolton recorded a number of albums and also collaborated with other artists as a songwriter. After releasing a number of fairly successful albums, the singer eventually attained superstardom in 1988 following the release his cover version of the song "How Am I Supposed to Live Without You".
The single which was contained in Bolton's album Soul Provider became a major hit as it peaked at No. 1 of the Billboard Hot 100 and also earned the singer his first Grammy award in 1990. The album Soul Provider also contained 4 other top 40 singles including "Georgia on My Mind" which earned Bolton a second Grammy nomination.
Michael Bolton achieved even more success following the release of the album Love & Tenderness (1991) which contained his cover version of the chart-topping song "When a Man Loves a Woman". Just like the original, Bolton's version was also a massive hit as it topped the Billboard Hot 100 and also earned the singer a second Grammy award in 1992. The talented singer received his 4th Grammy nomination for the hit single "Said I Loved You…But I Lied" which was co-written and co-produced by him.
In addition to several major collaborations, Michael Bolton has since recorded other successful singles and albums. He currently has 17 studio albums, several compilation albums, 3 Christmas albums and 35 singles, 9 of which reached the top of either the Billboard Hot 100 or the Hot Adult Contemporary Tracks charts.
He has also appeared in minor roles in a number of film and TV productions. In 2010, he featured in the 11th season of Dancing with the Stars, however, he suffered an early exit alongside his dance partner Chelsie Hightower. In January 2013, the superstar musician published his memoir The Soul of It All: My Music, My Life.
Wife, Children
Michael Bolton has been married once. He tied the knot with Maureen McGuire on May 4, 1975. The couple had 3 daughters together –  Isa, Holly, and Taryn. After 15 years of marriage, the marriage union between Bolton and McGuire ended in a divorce in 1990.
2 years after his divorce was finalized, Bolton got together with British-American actress Nicollette Sheridan. Their relationship lasted for about 5 years after which they split up. Nearly 10 years after the split, Bolton and Sheridan rekindled old flames as they got back together in 2005. The couple took their relationship a notch higher as they got engaged in 2006. The couple equally performed a duet "The Second Time Around" for Bolton's Bolton Swings Sinatra (2006) album. However, they never made it to the altar as the engagement was called off in August 2008.
"attachment_27122″ class="wp-caption alignnone" style="width: 640px;" aria-describedby="caption-attachment-27122″>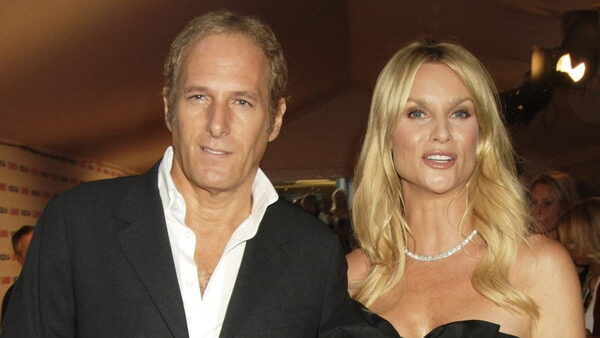 Is Michael Bolton Gay?
Other than his first/only marriage and his near-marriage to Nicollette Sheridan, Michael Bolton has been remotely linked to a number of other women. Going by his relationship history, it would be safe to assume that he is not gay. Also, throughout his long-running music career, the Grammy-winning artist has never made any statements to suggest otherwise.
Height and Other Body Measurements
Michael Bolton stands at a height of 5 feet 9 inches (175 cm). Over the years, the talented musician has maintained a trim physique with a body weight of 75 kg (165 lbs). In his heyday, Bolton was well-known for his shoulder-length hair which became one of his trademark features. However, the singer got the big chop in the mid-90s which marked the end of his iconic mullet. Bolton had the hair auctioned off for charity and has since kept his blonde hair short.