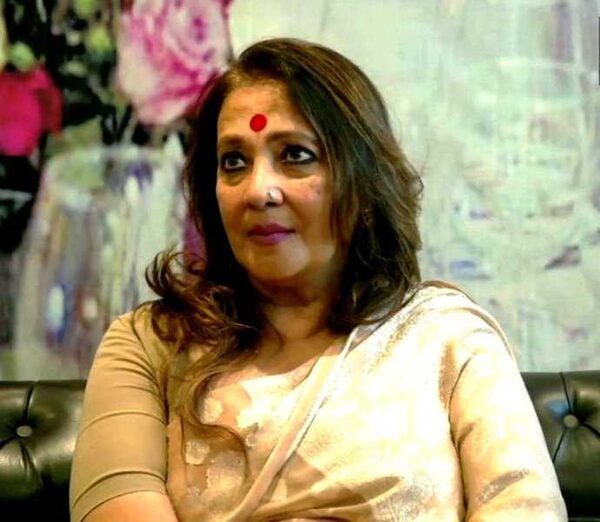 Moon Moon Sen is an Indian Politician. She was an actress prior to her entry in the film industry. Her mother was the famous Bengali actress Sucharita Sen. She is married to the descendant of the Royal Family of Tripura State, Bharat Dev Verma. She contested the 2019 Lok Sabha elections from the Asansol seat against Union Minister Babul Supriyo.
Wiki/Biography
Moon Moon Sen was born on 28 March 1954 (age 65 years; as in 2019) in 24 Parganas, Kolkata. Her zodiac sign is Aries. She has done her schooling from Loretto Convent Shillong and Loretto House Kolkata. She then went on to pursue her graduation from Somerville College Oxford, England. She also has a Masters Degree in, Masters in Comparative Literature from Jadavpur University. Moon Moon was not always interested in acting. She worked as a teacher in the Ballygunge Girls' School and a year later in Chitrabani School; where she used to teach Graphics. She has also worked in the All India Radio and later, she took a teaching job again in the Ballygunge Government High School, Kolkata.
She got married and had her daughters before she joined the film industry. She started out her career with Bengali films. She was quite successful and was offered many projects. She also got contracts from other film industries such as Marathi, Kannada, Telegu, Malayalam and Bhojpuri. This also got her the opportunity to meet Rajinikanth.
She made her Bollywood debut with the 1984 film Andar Bahaar, starring Anil Kapoor and Jackie Shroff. She was noticed instantly as she played a very bold role. Not many actresses used to do such bold scenes in movies in the 1980s.
Even though she was not too successful in Bollywood, she was famous for being bold. She was one of the first actresses who started the trend of doing photo shoots in a bikini. Over the years she did many Bollywood films with courageous stances and bold roles, but she was never shy from doing such roles. She always said that she was comfortable with her body and has no problem until the photo shoot was done in a good sport.
She is also a businesswoman and owns an interior design store and a consultancy. She has always said that her husband is the reason for all her success and has supported her in all her endeavours. She credits her husband for her joining politics, says he encouraged her to join politics. She joined the TMC after her mother's death in 2014. She was named by Mamata Banerjee as a TMC candidate for the 2014 Lok Sabha Elections.
Physical Appearance
Height: 5′ 3″
Weight: 70 kg
Figure Measurements: 36-30-38
Eye Colour: Black
Hair Colour: Medium Golden Brown
Family
She was born in a Kayastha family. Her father, Dibanath Sen, was one of the wealthiest businessmen in Kolkata. Her mother, Sucharita Sen, was an actress and had starred in many Bengali as well as Bollywood films. She was always considered to be a girl born with a silver spoon. She had the best education from the best schools and colleges. She is married to the descendant of the Royal Family of Tripura State, Bharat Dev Verma. They have two daughters together, Raima Sen and Riya Sen.
Political Career
She joined the All India Trinamool Congress (TMC) in 2014. Mamata Banerjee while announcing the names of the candidates, announced her name too from the Bankura Lok Sabha seat. She had no clue that she was about to be named for the Lok Sabha seat; a friend had called her to congratulate her for her nomination, which is when she got the news. She contested the elections and won from the Bankura seat and was elected tot he Lok Sabha. She defeated 9 time CPI (M) candidate Basudeb Acaria. This was a big win for both Moon Moon Sen and the TMC.
In 2019, the Bankura seat was given to TMC's Subrata Mukherjee. She was instead given the ticket to contest the 2019 Lok Sabha Elections from the Asansol Lok Sabha Constituency against Union Minister Babul Supriyo. When her name was announced as the candidate for the Lok Sabha elections from the Asansol seat, Babul Supriyo responded with a tweet-
Mamtaji always presents me with SEN-sational opponents in Asansol Elections… Dola SEN in 2014 and Moonmoon SEN in 2019 !

— Chowkidar Babul Supriyo (@SuPriyoBabul) March 12, 2019
Controversies
In 2014, when she visiting the Bankura constituency, the roads of Bankura were washed with water so as the discomfort was not caused to Moon Moon Sen, Raima Sen and Riya Sen by the dust that was blowing through the roads. This was widely criticized by the people of Bankura as well as other politicians; as Bankura had a major water problem and people did not have water to drink.
In 2015, she praised Prime Minister Narendra Modi for improving India's image in the world. She was criticized by some of her party workers because of this statement.
In 2019, she was criticized widely as, when asked about the ongoing violence in Assam in the polling booths, she responded by saying that she got her bed tea late and she woke up late, hence she did not know anything about the incidence.
Facts
Before her marriage, she had once in an interview expressed her desire to adopt a child.
Moon Moon Sen has acted in more than 60 films and in more than 40 television serials.
In Bankura, when she was campaigning for the 2014 General Elections, people knew her more popularly by the name of Sucharita Sen's daughter then her real name.
Her daughters Raima and Riya are seen along with her in many rallies, functions and Constituency visits.