To many people, nothing paints a better picture of how influential Pat Sajak is than the recent case of a man who killed his elderly mom believing Sajak wanted him to do so. All Sajak said while hosting his Wheel of Fortune game show was "do it" and the man slaughtered his mother.
Of course, the man is demented and Sajak wasn't talking to him but somehow, it isn't completely out of place that people are taking this unfortunate incident as a yardstick to measure Pat Sajak's influence on the society. He is one of the most influential television personalities in America.
More to that, Pat is famous as a talk show host and was once a weatherman. Nonetheless, he is most known as the host of Merv Griffin's television game show, Wheel of Fortune. While it is a common knowledge that Pat has a long history with the media, it is not known to many that he was one of the U.S. soldiers who fought the Vietnam War. However, Sajak didn't take part in the actual fighting of the war. He was drafted to serve as a disc jockey for the Armed Forces Radio. That was in 1968.
Pat Sajak was parodied in a 1980s Sesame Street sketch, with a Muppet named Pat Playjacks hosting "Squeal of Fortune". The goal was for the contestants (Prairie Dawn and The Count) to guess how many times a pig in the center of the wheel would squeal before the wheel stopped.
During the 1980s, comedian Martin Short frequently portrayed a fictional character he called Ed Grimley, a hyperactive manchild who is obsessed with banal popular culture – Sajak in particular – on the sketch comedy television shows SCTV and Saturday Night Live.
In 1986, Sajak and his Wheel of Fortune co-star Vanna White portrayed themselves on an episode of the NBC sitcom 227.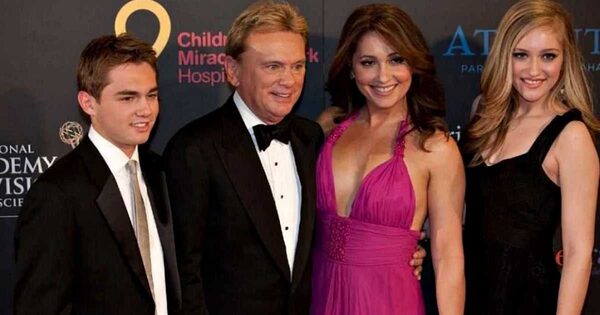 In the fourth episode of season three of Comedy Central's Brickleberry, "That Brother's My Father", Pat Sajak gets kidnapped and becomes a hostage to the wheel of fortune.
In the 1994 Rugrats episode "Chuckie is Rich", Pat Sajak awards Chaz with $10 million. His son, Pat Sajak Jr., also appeared in the episode as one of the children in the wealthy daycare. Pat Sajak also voices himself in the episode.
In the fourth-season episode of The A-Team called "Wheel of Fortune", Pat Sajak makes a cameo along with co-star Vanna White. In the episode, Murdock wins big at Wheel of Fortune due to Face's system of guessing the letters correctly.
In 1992, Sajak was a special guest star in the TV show The Commish. The episode first aired on November 7, 1992, and was called "The Two Faces Of Ed". He played psychologist Brian Brandon.
Sajak DJed and anchored for several media outlets before he was approached by Los Angeles' KNBC-TV in 1977 for a weatherman job which he accepted.  A few years later, (1981) Pat Sajak was again approached for a better job. This time, a media tycoon, Merv Griffin wanted him to take over the hosting of his popular game show. Sajak was willing to captain the Wheel of Fortune game show but was resisted by Fred Silverman who was the President and CEO of NBC then. Silverman believed Sajak wasn't the right man for the job.
But as fate would have it, Sajak eventually got to host the show. Today, everyone thinks his hosting style is phenomenal.
Pat Sajak's Bio, Net Worth, Salary
Sajak has been audaciously bold in his early days. If you pay attention to that fact, you will find that it is only natural he grabbed the Daytime Emmy Award for Outstanding Game Show Host first in 1993 and again in 1997. He has also been honoured with a Hollywood Walk of Fame star in 1994.
Pat Sajak (Patrick Leonard Sajdak born October 26, 1946) is an American television personality, former weatherman, and talk-show host, best known as the host of the American television game show Wheel of Fortune. For his work on Wheel, Sajak has received 19 nominations for the Daytime Emmy Award for Outstanding Game Show Host, winning three times.
Even when he started hosting the popular show in 1981, he had a hard time believing it will be the major highlight of his career. Growing up, Sajak obtained his earliest formal education from an elementary school near his home. From there, he moved on and became a student of Farragut High School located on the West Side of Chicago. When he was done with the public school, he worked in a hotel while he acquired higher education from Columbia College Chicago.
You can't make a list of the most paid game show hosts without having Sajak named therein. Per reports, the Wheel of Fortune man pockets $15 million each year as salary. The robust pay among other things has left many wondering what the value of Pat's wealth is. This has engendered several estimations of Sajak's net worth which are largely guesswork. While you are most likely to find the man's net worth estimated between $45 and $55 million, the figures can't be substantiated. It's safer to just point out that Pat has gathered enviable wealth for himself from hosting the popular game show and his other endeavours.
Pat Sajak Married, Wife, Daughter, Kids, Family
We have traced Pat's root to Poland, his parents' parents were all Polish. His dad, Leonard Anthony Sajdak was a factory worker when Pat was a boy. For reasons that are unknown to the public, Pat's mom, Joyce Helen abandoned her marriage with Leonard and married another man, making Pat a stepson to Walter Backal.
The Wheel of Fortune host lives with his family in Severna Park, Maryland. He married his photographer wife, Lesly Brown Sajak on the last day of December 1989. The Pat-Lesly marriage has been blessed with two kids. First, they had a son and named him Patrick Michael James Sajak. Pat Jr. was born on 22nd September 1990. After four years and some months, the couple welcomed their second child, a daughter they named Maggie Marie Sajak. She was welcomed on 5th January 1995. Maggie is the most popular of Pat's kids. Being a country singer, she is known for her 2011 debut single, First Kiss.
Pat Sajak Wife
Meanwhile, Lesly isn't Pat Sajak first wife. He was once married to one Sherrill. The marriage which was celebrated in 1979 crashed in 1986.