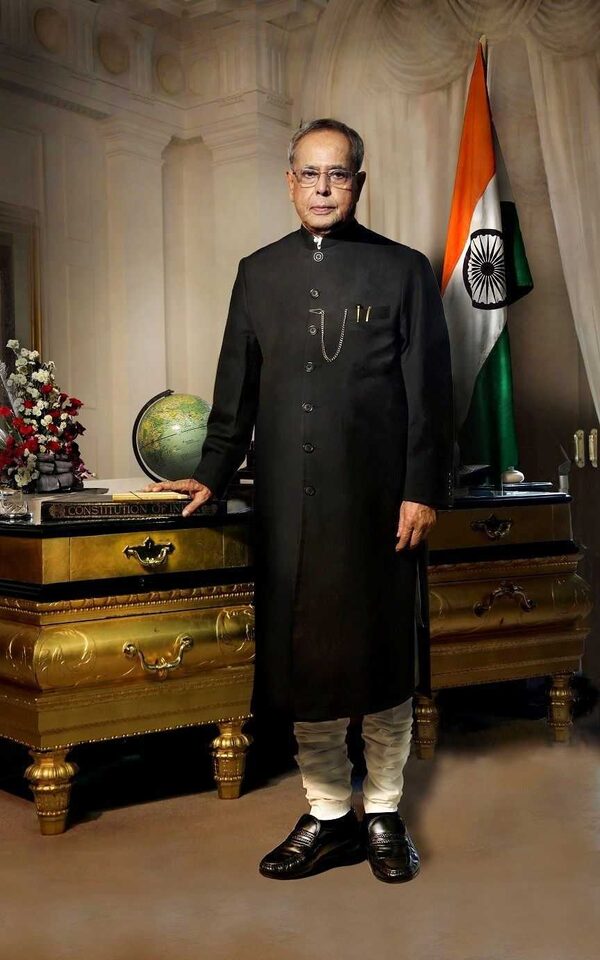 Pranab Mukherjee is the former President of India. He served as the 13th President of India from 2012 to 2017. He is a senior leader of the Indian National Congress (INC) and has held many important ministerial positions over his political career of 5 decades.
Wiki/Biography
Pranab Mukherjee was born on 11 December 1935 (age 83; as in 2018) in Mirati, Bengal Presidency, British India. His zodiac sign is Sagittarius. He has done his schooling from the Dhaka Collegiate School, Bangladesh. He then pursued his Bachelor of Laws (LLB) degree from the Suri Vidyasagar College, Birbhum, West Bengal. He then pursued his MA degree from the same college in Political Science & History.
After completing his college, he took a job as an upper-division Clerk in the Office of the Deputy Accountant-General (Post and Telegraph) in Calcutta. In 1963, he became a Political Science Lecturer at the Vidyanagar College, South 24 Parganas, Kolkata. He also used to be a journalist for some time with the newspaper-Desher Dak (Call of the Motherland). In 1969, he started to manage the political campaign of V. K. Krishna Menon for the by-elections. Menon was a Congress candidate and Mukherjee managed his campaign so well that he got noticed by Indira Gandhi; who made him a member of the Indian National Congress (INC).
Physical Appearance
Height: 5′ 4″
Weight: 70 kg
Eye Colour: Black
Hair Colour: Grey
Family, Caste & Wife
Pranab Mukherjee belongs to a Kulin Brahmin family. His father, Kamada Kinkar Mukherjee, was an active member of the Indian Independence Movement and the West Bengal Legislative Council between 1952 and 1964; where he represented the Indian National Congress and as a member of the All India Congress Committee (AICC). His mother, Rajlakshmi Mukherjee, who was a freedom fighter too. He has 4 sisters, Annapurna Banerjee, Krishna Mukherjee, Jharna, and Swagata Das Mukherjee. His elder brother, Pijush Mukherjee, died on 20 October 2017.
Pranab Mukherjee was married to Surva Mukherjee on 13 July 1957. They had two sons, Abhijit Mukherjee and Indrajit Mukherjee, and a daughter, Sharmistha Mukherjee. Surva Mukherjee died on 18 August 2015 after suffering from heart problems.
Pranab Mukherjee With His Daughter Sharmistha Mukherjee
Political Career
Pranab Mukherjee got associated with politics directly when he managed the by-election campaign of V. K. Krishna Menon from Midnapore, West Bengal. He managed his campaign so well that it caught the attention of Indira Gandhi. She was impressed by his talents and included her in the party. In July 1969, Pranab Mukherjee was elected to the Rajya Sabha for the first time. He was re-elected to the Rajya Sabha in 1975, 1981, 1993 and 1999. Mukherjee eventually became Indira Gandhi's right-hand man, he became close to her and rose swiftly up the party ranks. In 1973, Indira Gandhi appointed Pranab Mukherjee as the Union Deputy Minister of Industrial Development.
In 1979, Mukherjee was appointed as the Deputy Leader of the Indian National Congress (INC) in the Rajya Sabha and the Leader of the Rajya Sabha in 1980. He was seen as a leader with the most powerful Minister in the cabinet and even used to head cabinet meetings when Indira Gandhi was not present. In 1982, he was appointed as the Union Finance Miniter. He was praised highly for his role as the Finance Minister as it saw the first loan from the International Monetary Fund (IMF) to India. During his term as the Finance Minister, Pranab Mukherjee appointed Former Prime Minister Manmohan Singh as the Governor of the Reserve Bank of India.
After Indira Gandhi was assassinated in 1984, her son Rajiv Gandhi took over the government. At that time, many believed that Pranab Mukherjee would be the successor to Indira Gandhi as Rajiv Gandhi was not involved in politics before 1984. Pranab lost his Cabinet Post and was appointed as the Head of the West Bengal Pradesh Congress Committee. He was sidelined by Rajiv Gandhi from the National political scene and was eventually pushed out of Congress. In 1986, Pranab Mukherjee quit the Congress and formed his own party in West Bengal, the Rashtriya Samajwadi Congress (RSC). In 1987, his party did not perform well in the Assembly Elections of West Bengal. In 1989, after many negotiations, his party merged with the Congress.
After Rajiv Gandhi's assassination in 1991, he was appointed as the Deputy Chairman of the Indian Planning Commission by the newly formed P.V. Narasimha Rao government. He was appointed as the Minister of External Affairs from 1995 to 1996 in the Narasimha Rao Government. He met former British Prime Minister Margaret Thatcher while he was the External Affairs Minister.
In 1997, when Sonia Gandhi formally entered politics, it was believed that Pranab Mukherjee was the one who convinced her. He was even considered as Sonia Gandhi's mentor. In 1998, when Sonia Gandhi became President of the Congress party, Pranab Mukherjee was appointed as the General Secretary of the All India Congress Committee (AICC). Pranab Mukherjee was appointed as the President of the West Bengal Congress in 2000 and he held on to that post until 2010.
Pranab Mukherjee contested and won his first Lok Sabha election in 2004 from the Jangipur Constituency of West Bengal. He was widely speculated to be named the Prime Minister after Sonia Gandhi declined to take the post but Manmohan Singh was appointed as the Prime Minister. In 2007, Mukherjee was considered to be named as the Presidential candidate but his name was dropped considering his role in the UPA and the cabinet. In the 2009 Lok Sabha elections, he was re-elected from the Jangipur Constituency. Pranab Mukherjee was an important part of the Manmohan Singh Government; he was the head of the Congress Parliamentary Party and the Congress Legislative Party which includes all the Congress MP's and MLA's from all over India. He was the Leader of the House and the President of the West Bengal Congress Committee. Pranab Mukherjee held many important portfolios during the Manmohan Singh government such as External Affairs, Finance and Defence. He met many world leaders during his term as the Defence Minister.
In 2012, Pranab Mukherjee ended all his affiliations with the Congress party after he was elected as the President of India. He retired from active political life and many termed it as an end of an era for Congress as he had been with Congress from the starting with P.V. Narasimha Rao and R Venkataraman; they were even called the Big Three of the Congress party as all of them were Gandhi loyalists. On 15 June 2012, he was nominated as the Presidential candidate of the United Progressive Alliance UPA). On 25 July 2012, Pranab Mukherjee was sworn-in as the President by the Chief Justice of India. In January 2017, Pranab Mukherjee stated that he would not be contesting for the Presidential elections again keeping in mind his advanced age and ailing health.
Awards, Honours & Achievements
Honoured with the Padma Bhushan in 2008
Named as the Best Finance Minister in World in 1984 by a survey in the Euromoney magazine
Named as the Finance Minister of the Year for Asia in 2010 by the Emerging Markets magazine (the daily newspaper of the World Bank and IMF)
He was named the Finance Minister of the Year in 2010 by The Banker magazine
Presented with an Honorary Doctorate from the University of Calcutta on 28 November 2014
He was presented with an Honorary Doctorate in Political Science by University of Jordan on 11 October 2015
He was presented with an Honorary Doctorate by the Hebrew University of Jerusalem, Israel on 15 October 2015
He was accorded the Honorary Citizenship of Abidjan, the Republic of Côte d'Ivoire, Africa on 15 June 2016
He was presented with an Honorary Doctorate by the Kathmandu University, Nepal on 3 November 2016
He was presented with an Honorary Doctorate by the Goa University on 25 April 2017
Honoured with the Bharat Ratna; India's Highest Civilian Honour in 2019
Controversies
On 2 July 2012, his opponent for the Presidential elections, P.A. Sangma, filed a petition against Mukherjee accusing him of holding an office of profit while being the Finance Minister and demanded that Mukherjee's candidature for President should be cancelled. Sangma claimed that Mukherjee was the Chairman of the Indian Statistical Institute (ISI) and according to Article 58 and 59, a presidential candidate cannot hold any office of profit including government-controlled bodies.
When he was the Union Finance Minister from 2009 to 2012, he was accused of influencing the textile industry and the Income Tax Department and imposing a differential tax on Reliance Industries against Bombay Dyeing.
In 2018, in his book The Coalition Years, he revealed that Sonia Gandhi hated Hindus and took many decisions that would affect the Hindus badly. He also wrote how she targeted Hindu saints and took measures to ensure their reputation was damaged.
In 2019, when Mukherjee was named as a recipient of the Bharat Ratna, many people speculated that the BJP was just awarding Mukherjee to appeal to the East and Northeast states.
Address
Flat No. 2-A, Kavi Bharti Sarani, Lake Road, Kolkata
Car Collection
Pranab Mukherjee has a Ford Ikon (2000 model) and an Ambassador
Books Authored
Beyond Survival: Emerging Dimensions of Indian Economy (1984)
The saga of Struggle and Sacrifice (1992)
Challenges before the Nation (1992)
Congress and the Making of the Indian Nation (2011)
Thoughts and Reflections (2014)
The Dramatic Decade: The Indira Gandhi Years (2014)
Selected Speeches – Pranab Mukherjee (2015)
The Turbulent Years: 1980 – 1996 (2016)
The Coalition Years (2018)
Assets & Properties
Movable Assets: Rs.63 Lacs
Cash: Rs. 1.37 Lacs
Bank Deposits: Rs. 59.67 Lacs
Properties: Rs. 62.58 Lacs
Agricultural land in Mirati, Birbhum, Kolkata worth Rs. 1.66 Lacs
Residential flat in Munirka, New Delhi worth Rs. 39 Lacs
Residential flat in Kavi Bharti Sarani, Lake Road, Kolkata worth Rs. 21 Lacs
Ancestral house in Mirati, Birbhum, Kolkata worth Rs.60,000
Net Worth
Rs. 3.06 Crores (as in 2011)
Facts
He is the first Bengali to become the President of India.
He enjoys reading, gardening and music.
Pranab Mukherjee was inspired by the Chinese leader Deng Xiaoping and often used to quote him.
He used to make it a point to celebrate Durga Puja at his ancestral home in Mirati village, Birbhum, West Bengal every year no matter how busy or where he was. He wanted to give his family time during festivals.
He was a heavy smoker in the '90s but then quit.
As the President, he rejected 7 mercy petitions including those of Afzal Guru and Ajmal Kasab.
In June 2018, Pranab Mukherjee became the first Former President of India to address a Rashtriya Swayamsevak Sangh (RSS) event.
In 2017, he quit politics.