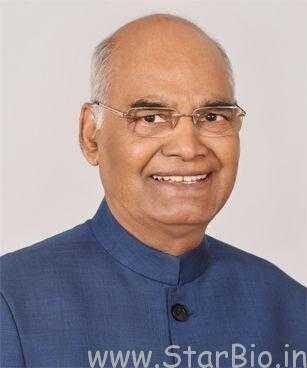 Ram Nath Kovind is a former Lawyer, turned into a prominent Indian Politician, prevailing as the 14th President of India. He is the 2nd Dalit leader after 'Kocheril Raman Narayanan' and the 1st Dalit President to be in such a high post of the Indian Constituency. Prior to his Presidency, Kovind served in the position of Governor for the state of Bihar from 2015 to 2017. Kovind was a practicing Lawyer for around 16 years, providing free legal aid to the weaker sections of the society in Delhi before he entered into Politics.  Let us find out some more interesting facts and biography of the 14th President of India.
Biography/Wiki
Ram Nath Kovind was born on 1 October 1945 (aged 73 years; as in 2018) in Paraukh, Kanpur Dehat district, Uttar Pradesh, India to Maikulal Kori and Kalawati. He graduated with a degree in Commerce and pursued LLB from Kanpur University. After completing his Law, Kovind moved to Delhi and started preparing for Civil service exam. He cleared the exam in his third attempt but denied joining the services because he was picked for an allied service and not IAS. He further enrolled himself as an Advocate in the Bar Council of Delhi and started practicing. During his phase as a Lawyer, Kovind provided free legal aid to the weaker sections of the society, women and poor people of Delhi. He was also a personal assistant to the then PM Morarji Desai in the period 1977-78. Later he was appointed as the Central Government's standing council of Supreme Court of India and he practiced as a lawyer till 1993. Kovind entered into politics when he joined the Bharatiya Janata Party (BJP) in 1991.
Family, Wife & Caste
Ram Nath Kovind was born into a Scheduled Caste (Koli community), Hindu family. His father, Maikulal Kori was a Local Vaidya and operated a grocery store. His mother was Kalawati, who died at a very young age of Kovind. Ram Nath has 4 Brothers and 3 sisters and he is the youngest of the 5 brothers.
Ram Nath Kovind married Savita Kovind (a retired government employee) on  30 May 1974. The couple has one son, Prashanth Kumar, an employee at Private Airlines and one daughter, Swati Kovind, who works with Air India's integration department.
Career
After completing Law, Kovind started practicing as an Advocate at Delhi High Court and was later appointed as the Central Government's standing council of Supreme Court between 1980 and 1993. He worked as the Advocate for around 16 years, wherein he provided free legal services to the poor and needy people of Delhi. He worked as a Personal Assistant for Prime Minister Morarji Desai's during 1977 and 1978.
Kovind joined Bharatiya Janata Party in 1991, held the position of National Spokesperson of Bharatiya Janata Party (BJP) and contested the Lok Sabha election from Ghatampur and Bhognipur constituency in Kanpur Nagar district, but lost both the times. Later, in 1994 he was elected as Member of Parliament (MP) of Rajya Sabha representing Uttar Pradesh for two consecutive terms i.e in 1994 and 2000 and was in the panel till March 2006. Being the member of BJP, he served as the President of BJP's Scheduled Caste Dalit Morcha and President of the All-India Koli Samaj between 1998 and 2002. He was sworn in as the Governor of Bihar on 8 August 2015, by the then President of India, Pranab Mukherjee and was in tenure until he was nominated by the ruling NDA for the Presidential post in June 2017. Kovind was accredited for the highest constitutional post in India, the President of India, defeating UPA candidate Meera Kuma with 66% votes and was delegated as the 14th President of India in July 2017. 
With his illustrious background in the legal arena, Shri Kovind's knowledge and understanding of the Constitution will benefit the nation.

— Narendra Modi (@narendramodi) June 19, 2017
Facts
During his visit to Delhi for preparation of Civil Services examination, Kovind met 'Jana Sangh' leader, Hukum Chand (from Ujjain), after which he developed an interest in politics.
Ram Nath Kovind is well-known for donating his ancestral home in Derapur to the Rashtriya Swayamsevak Sangh (RSS.)
Through the MPLAD scheme, Kovind emphasized the development of basic infrastructure for education in rural areas of Uttar Pradesh and Uttarakhand.
He was the Member of Parliamentary Committee on Welfare of Scheduled Castes/Tribes, Parliamentary Committee on Home Affairs, Parliamentary Committee on Petroleum and Natural Gas, Parliamentary Committee on Social Justice and Empowerment, Parliamentary Committee on Law and Justice, and Chairman of Rajya Sabha House Committee.
In October 2002, he represented India while he addressed for the United Nations General Assembly in New York.