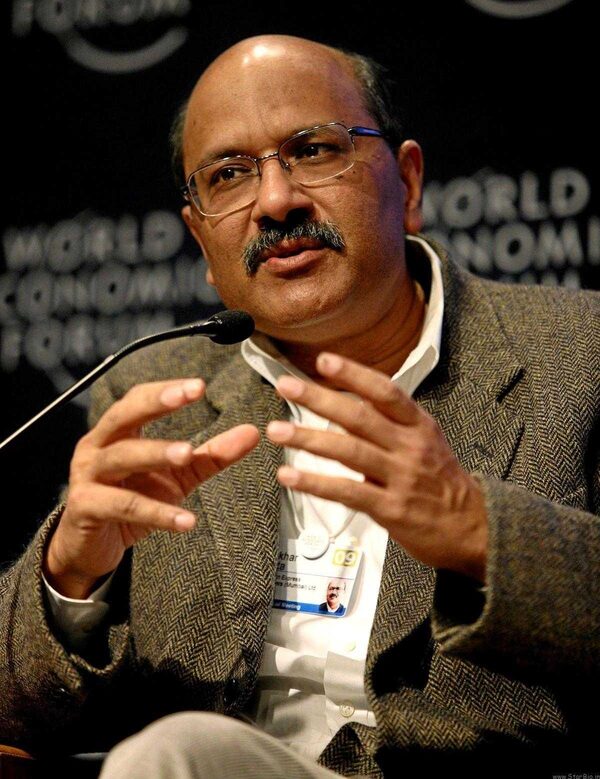 Shekhar Gupta is a prominent Indian journalist. He was the Editor-in-Chief and the CEO of the Indian Express for 13 years but he quit in 2015. He then joined India Today as its Editor-in-Chief but left shortly just after two months. He has now started his own digital media news company, The Print, and is also its Editor-in-Chief.
Wiki/Biography
Shekhar Gupta was born on 26 August 1957 (age 61 years; as in 2018) in Palwal, Haryana. He did his schooling from many places such as Palwal, Rohtak, and Punjab.
In college, he was forced to study biology as at that time, the only options were science and biology and he did not want to pursue engineering. Once when he went to Punjab University to get the spelling of his name in his mark sheet corrected, where he saw the notice for the admission tests of journalism, he filled out the form and got selected.
Physical Appearance
Height: 5′ 10″
Weight: 80 kg
Hair Colour: Grey
Eye Colour: Black
Family, Caste & Girlfriend
Shekhar belongs to a Hindu family. Not much is known about his family other than the fact that his father was a government employee. He is married to Neelam Jolly.
Career
Shekhar started out as a cub reporter in 1977 in The Indian Express in Chandigarh. He worked there for 6 years and resigned in 1983 to join India Today as a reporter. There he covered a lot of big stories such as Operation Bluestar from inside the Golden Temple, the Gulf War of 1991, the Nellie massacre in Assam, among many more. In 1995, he joined The Indian Express again and eventually became the Editor-in-Chief and also the CEO. He had a weekly column in The Indian Express called National Interest. He also did a talk show with NDTV 24×7 named Walk The Talk, which became very popular and aired for around 15 years with more than 600 guests invited to the show.
In 2015 he quit The Indian Express and joined India Today as the Editor-in-Chief, but left after a very short term of just two months. In 2017, he started a new company along with Barkha Dutt to open a new digital media company named, The Print. Even though Barkha Dutt and Shekhar Gupta announced the venture together, Barkha was never involved in The Print, she wasn't even named in the company records and 6 months after The Print started, her name was dropped from the company website too.
His talk show, Walk The Talk was renamed as Off The Cuff but still aired on NDTV 24×7, but the ownership rights were now under Shekhar's company, The Print. The format of the show was modified; the show was now filmed in front of a live audience instead of a one on one and live interaction was also introduced after the interview.
Controversies
In 2010, Shekhar Gupta closed down his company Greenpine Agro after he was accused by the former Army General VK Singh of tax evasion and fraud, as Gupta had not filed tax for many years and had also filed 8 years of balance sheets on a single day on 18 January 2010. Gupta closed down the company on 30 August 2010, by filing for EES (Early Exit Scheme).
In May 2012, Shekhar sued the founder of the Outlook India magazine, Vinod Mehta, as in an interview to the Open Magazine, Mehta said that Shekhar had written an article earlier in 2012 deliberately to damage the former Army Chief General VK Singh's reputation. In reaction to this statement, Gupta sued Vinod Mehta and Open magazine. This issue was hyped a lot as many people stated that Gupta reacted immaturely to this whole situation.
In 2017, Bangladeshi writer Taslima Nasreen accused Shekhar of changing the headline of one of her articles to create a rift between communities. The heading of the article offended many people in India. The headline after being changed was- Why are Hindus Trying to prove that they can become ISIS like extremists. She also posted a screenshot of a conversation regarding this with Shekhar Gupta.
In a leaked document in April 2019, he was named in the Enforcement Directorate supplementary charge sheet that the main accused of the Augusta Westland Scam, Christian Michel, paid Shekhar Gupta through a broker, to tone down the Augusta Westland Chopper Scam news and influence the public opinion.
Awards/ Achevements
He was honored with the 1984 American Society of Newspaper Editors (ASNE) fellowship at the Tufts University and The New York Times
He received the Inlaks Young Journalist of the Year Award in 1985
The GK Reddy Award for Journalism in 1997
The Fakhruddin Ali Ahmed Memorial Award for National Integration in 2006
He was awarded the Padma Bhushan in 2009 for his contribution to journalism
Salary
He used to earn a salary of INR 10 crores per annum, as the Editor-in-Chief of The Indian Express (as in 2015).
Facts
His wife Neelam Jolly owns and runs an NGO, Vishwas, which is supported by a lot of renowned people in the media industry such as Arun Shourie, Lord Meghnad Desai among many more.
In 2014, Shekhar Gupta compiled all the famous writings from his column in The Indian Express, National Interest, in a book named Anticipating India.
In 2017, he launched a book, which had 25 of the most impactful political interviews from his talk show, Walk The Talk, which marked a political change, not only in India but also in the world.