Did Mahesh Bhatt really throw a slipper at Kangana Ranaut as alleged by sister Rangoli?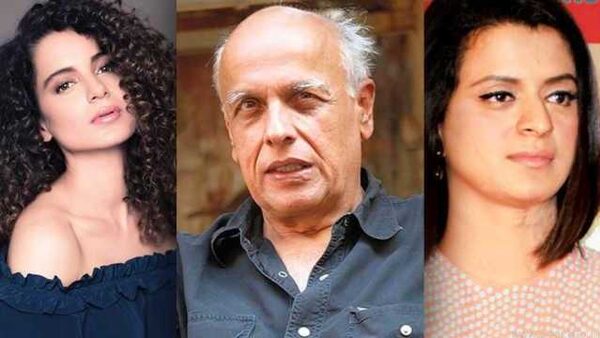 Kangana Ranaut has been taking potshots at Alia Bhatt, which the latter has largely ignored. Alia apologized if she had done anything wrong, but Ranaut hasn't stopped attacking the Kalank (2019) actress.  
Upset by Ranaut constantly attacking her daughter, Alia's mother Soni Razdan reminded Ranaut that it was her filmmaker husband Mahesh Bhatt who had given her a break in the film industry. Ranaut's sister Rangoli Chandel has now refuted that claim and alleged that Mahesh had thrown a slipper at her sister during the preview show of the film Woh Lamhe (2006).
"Mahesh Bhatt is the man who has given her a break … she goes on to attack his wife and daughter. Daughter over and over again. What is left to be said then about abusing and hatred I wonder? Apart from the character of course. Agenda? What's hers…? https://t.co/D4xq12YSor," Razdan had tweeted, before deleting her post.
Chandel refuted Razdan's claim and said Mahesh had assaulted her sister.
"Dear Soni ji, Mahesh Bhatt never gave her a break, Anurag Basu did, Mahesh Bhatt ji works as a creative director in his brother's production house….(contd) @Soni_Razdan https://twitter.com/Soni_Razdan/status/1118151249604440065 …," Chandel replied to Razdan's deleted tweet.
It may be recalled that Ranaut was to be launched by Pahlaj Nihalani in a film titled I Love You Boss, but Ranaut opted out of it after she received a three-film offer from Mahesh. Anurag Basu's Gangster (2006) and Mohit Suri's Woh Lamhe (2006) were Ranaut's first two films that were produced by Mahesh.
Chandel claimed that Mahesh was upset with Ranaut for refusing a film called Dhokha where she was asked to play a suicide bomber.
"please note that he doesn't own that production house, after Woh Lamhe when Kangana refused to do a film written by him called 'Dhokha where he wanted her to play a suicide bomber he got so upset that he not only shouted at her in his office," added Chandel.
Razdan later deleted her tweet. Efforts to contact Mahesh didn't yield a response.
Speaking to Cinestaan.com, a reliable source who was closely associated with the film, said, "There were are few preview screenings. I had attended a couple of them. As far as I know, no such thing happened in my presence. And even if I wasn't there, such an incident is too big to not be knowing about. It if did happen, then it's impossible to not have heard about it."
We also spoke to a couple of people from Woh Lamhe, one of whom is now gearing for up for his directorial debut. However, both people claimed to have no knowledge of such an incident.