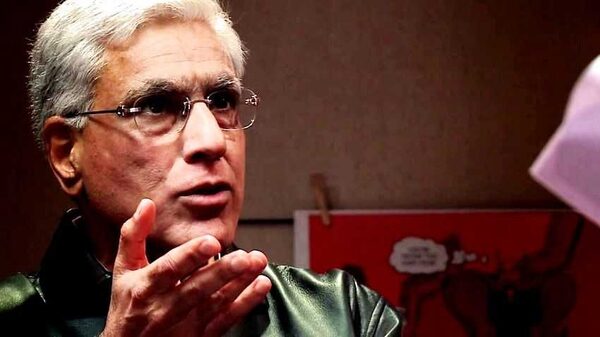 Karan Thapar is an Indian Journalist. He has hosted many talk shows which have received many awards. Karan Thapar has interviewed many prominent politicians and celebrities of India. He has authored two books and is currently working with Tiranga TV.
Wiki/Biography
Karan Thapar was born on 5 November 1955 (age 63 years; as in 2018). His zodiac sign is Scorpio. He did his schooling from The Doon School in Dehradun and the Stowe School in England. He pursued his Bachelors in Economics and Political Philosophy in 1977 from the Pembroke College of Cambridge University, England. He has also obtained a doctorate in International Relations from the St. Anthony's College, a constituent college of the Oxford University, England.
When Karan Thapar was studying in the Doon School, he was the Editor-in-Chief of the school magazine, The Doon School Weekly. When he was in the Pembroke College of Cambridge University, Karan was the Vice-President of the Cambridge Union Society. While in Cambridge, he was famous for inviting the controversial filmmaker Jorgen Thorsen to Cambridge University for an interview. The invitation was later cancelled by the Cambridge Union; after there was public outcry against the invitation. Karan used to write a political philosophy column, which had quite a number of fans in Cambridge University.
He started his career with a publication in Nigeria in 1981. In 1982, he moved to London for work and was there for the next 11 years. In 1991, he moved back to India to work for Indian Media Houses. He started his own Production House in August 2001 and produces content for other news channels and media houses.
Physical Appearance
Height: 5′ 7″
Weight: 70 kg
Hair Colour: White
Eye Colour: Black
Family
He was born in Srinagar and comes from a Punjabi family. His father, General Pran Nath Thapar, was the former Chief of Army Staff in the Indian Army. His mother is Bimla Thapar. He has 3 sisters Shobha Thapar, Premila Thapar, and Kiran Thapar. Karan's cousin, Romila Thapar, is a famous historian as well as an Emeritus Professor.
He was married to Nisha Thapar. She died of Encephalitis on 3 December 1982 at the age of 33. Karan is a widower and did not remarry.
Career
Karan Thapar began his career in Lagos, Nigeria with The Times UK. He worked there till 1981 and was promoted as The Lead Writer of The Times. His association with print media ended in 1982 when Karan quit the Times and moved to The United Kingdom, to work with London Weekend Television. He worked there for a decade before moving to India in 1991.
In India, Karan joined the Hindustan Times Television Group as an Executive Producer and was an integral part of the channel. Over the next decade, Karan also worked with other channels such as Home TV, Star TV, United Television, and others before starting his own production house- Infotainment Television, in 2001. His company produced shows for many channels including the BBC. He joined CNN IBN as an anchor and interviewed many important personalities of India, such as Barrack Obama, Narendra Modi, Amitabh Bachchan, Jayalalithaa, Aishwarya Rai and many more.
On 28 March 2014, Karan Thapar quit CNN IBN, after 14 years. He joined India Today in April 2014, as a news anchor. He hosted the shows "Nothing But The Truth" and "To The Point". Karan Thapar also has a column in the Indian Express.
In 2019, he left India TV and joined Tiranga TV; which is owned by Harvest TV and backed by Kapil Sibal. Tiranga TV was started in 2019 and Barkha Dutt and Karan Thapar were hired to give the channel attention and a good start.
Controversies
In 2004, Karan's interview with Jayalalithaa went viral as she was rattled by questions asked in the interview. During the interview, Jayalalithaa said-


She was sorry that she agreed to do the interview and it wasn't a pleasure to meet him."
In 2007, when Karan Thapar was interviewing Narendra Modi, he asked questions about the Godhra Riots and said that Gujarat considered him an ideal Chief Minister, but thousands of Muslims considered him a mass murderer. After dodging the question a few times, Narendra Modi's patience gave out and he walked out of the interview. In his book, The Devil's Advocate, Karan mentioned-


Mr Modi was extremely polite, he did not lose his cool, they both talked for an hour after he had walked out of the interview, but he did not agree to continue the interview."
In Karan's book, The Devil's Advocate, he quoted Pavan Kumar Varma- "Narendra Modi was shown the clip of him walking out of Karan's interview 30-40 times before the 2014 General Elections; to prepare him in the future for tough questions and interviews". After the book launch, Pavan denied the claim and tweeted-
Surprised to see Karan Thapar quoting me, and citing Prashant Kishor, in his book 'The Devil's Advocate'. Such a conversation with me did not take place as Karan recalls it, nor has Prashant ever spoken to me about Karan. The record must be set straight.

— Pavan K. Varma (@PavanK_Varma) July 21, 2018
In his book, Karan claims that after Narendra Modi walked out of his interview, he did not give him another interview ever. Whenever he sent an interview request, his office said he was busy. He claims that Modi had asked all BJP leaders to boycott Karan. After BJP's win in 2014, he hasn't been able to interview anyone from the BJP.
In 2017, Karan Thapar wrote an article on Kulbhushan Jadhav; an Indian caught in Iran and brought to Pakistan, where he was sentenced to death. Later when the case was taken up in the International Court of Justice (ICJ), the execution was put on hold, pending the final judgement on the case. Thapar's article was used by Pakistan in the ICJ. This caused outrage among Indians and many journalists condemned Thapar for writing an article which raises doubts over the Indian Government and RAW.
Awards
The Onida Pinnacle Award for The Best Current Affairs Presenter for his show, The Chat Show, in 1995.
Karan Thapar became the first person to win The Best Current Affairs Presenter and The Best Current Affairs Programme Awards together by the Asian Television Awards in December 2003.
His show, The Devil's Advocate, won the Best News/Current Affairs Show Award by the News Television Awards.
News Interviewer of the Year Award by The Indian News Broadcasting Awards.
Ramnath Goenka Excellence in Journalism Award and Journalist of the Year (Broadcast) Award in April 2009.
News Show Host of the Year Award by The Indian News Broadcasting Awards in August 2009
His show, The Devil's Advocate. was presented with the Best News Talk Show Award by the News Television Awards in December 2010.
The Best Current Affairs Presenter by the Asian Television Awards in December 2010.
The Best Current Affairs Programme Award by the National Television Awards in October 2013.
The International Press Institute-India Award for Excellence in the field of Journalism in December 2013.
On 22 March 2018, he was awarded the G.K. Reddy Award for Journalism by The Former Prime Minister Manmohan Singh.
Facts
He visits London every year in Christmas and returns after the New Year. Once in an interview, he stated-


I like to stay in a civilized place at the starting of the year, hence I travel to London and do not stay in India."
He has connections to the Nehru family.
During his college days, he was very close to Benazir Bhutto. He said they used to drive around London and would randomly go on road trips and ice cream breaks.
He was a close friend of Sanjay Gandhi. In his book, The Devil's Advocate, he has written that Sanjay once tried to teach him how to fly a plane, but Karan wasn't able to learn.
On 25 July 2018, Karan Thapar launched his book, The Devil's Advocate, in the Taj Mahal Hotel, New Delhi. Many renowned personalities were present at the launch, including L.K. Advani.