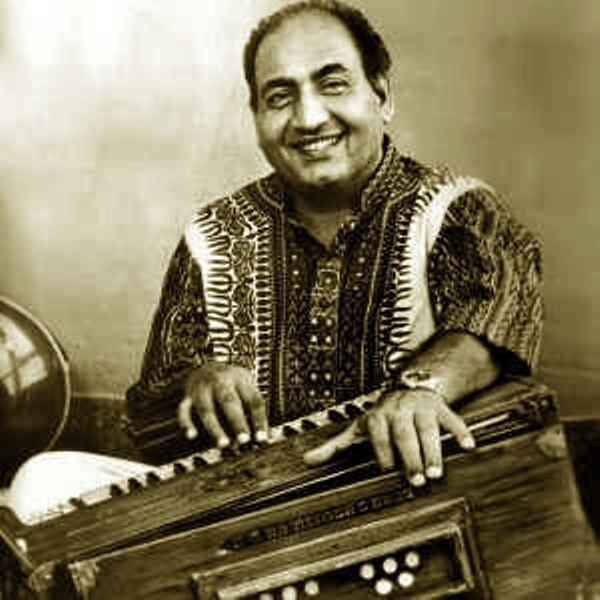 Mohammed Rafi was an Indian playback singer and is widely regarded as one of the greatest singers of India. He has recorded more than 7400 songs in various Indian languages.
Wiki/Biography
Mohammed Rafi 24 December 1924 (age 55 years; at the time of death) in the Kotla Sultan Singh village (near Amritsar) of Punjab. His zodiac sign is Capricorn.
Family, Caste & Wife
Mohammed Rafi was born to Haji Ali Mohammed and Allah Rakhi.
He had five brothers named Mohammed Safi, Mohammed Deen, Mohammed Ismail, Mohammed Ibrahim, and Mohammed Siddique. He was second eldest amongst all of his brothers.
He had two sisters named Chirag Bibi and Reshma Bibi. He got married for the first time to Bashira Bibi. Rafi has a son from his first wife named Sayeed. He got married again to Bilquis Bano in 1943. He has three sons named Khalid, Hamid, and Sahid and two daughters named Parveen, Yashmin, and Nashrin from his second wife.
Career
He made his debut as a playback singer in a duet with "Soniye Nee, Heeriye Nee" with a Zeenat Begum in a Punjabi film "Gul Baloch (1944)." He made his Bollywood debut as a playback singer with the song 'Aji Dil Ho Kaabu Me' from the film "Gaon Ki Gori (1945)."
He worked with several music composers such as Naushad, S. D. Burman, Shankar-Jaikishan, O. P. Nayyar, Ravi, Laxmikant-Pyarelal.
Controversies
In the early 1960s, there was a fallout between Lata Mangeshkar and Mohammed Rafi. The reason was the royalty payments for the songs sung by singers. Lata asked Rafi to support her opinion, but instead of supporting her, Rafi went the other way. Rafi said that when producers pay the fees, a singer demand for a song, the singer would not have a share in the royalties. As a result, Lata and Rafi did not sing for about 2-3 years together after this. The veteran music director, Jaikishan finally helped them to reconcile.
In 2012, Lata Mangeshkar in an interview said that she only decided to sing with Rafi after he wrote an apology letter to her. After this incident, Rafi's son Shahid called her action as an act to dishonour his father. He further said that if it was true then should produce that letter in front of everyone and if she fails to do so, Shahid would file a case against her.
Lata Mangeshkar and Rafi were involved in a controversy over Lata's entry into Guinness Book of World Records. In a letter dated 11 June 1977, he challenged that the number of songs he had recorded was more than that of Lata's. After Rafi's death, Guinness clarified the fact and named her for the 'Most Recorded Songs' in 1991, the Guinness book entry of both Lata and Rafi were later deleted.
Awards
Honoured with a silver medal from Pt. Jawaharlal Nehru (first Prime Minister of independent India) on the first anniversary of Independence Day of India.
National Award for the song "Kya Hua Tera Wada" from the film "Hum Kisise Kum Naheen" in 1977
Filmfare Awards
Best Playback Singer for the song "Chaudhvin Ka Chand Ho" from the film "Chaudhvin Ka Chand" in 1960
Best Playback Singer for the song "Teri Pyaari Pyaari Surat Ko" from the film "Sasural" in 1961
Best Playback Singer for the song "Chahunga Main Tujhe" from the film "Dosti" in 1964
Best Playback Singer for the song "Baharo Phool Barsao" from the film "Suraj" in 1966
Best Playback Singer for the song "Dil Ke Jharoke Mein" from the film "Brahmachari" in 1968
Best Playback Singer for the song "Kya Hua Tera Wada" from the film "Hum Kisise Kum Naheen" in 1977
Favourite Things
Film: Mughal-E-Azam, Aradhna, Guide, An Evening In Paris
Colour: Brown, Red, White
Cars Collection
He owned Fiat Padmini and Impala.
Net Worth
He had an estimated Net Worth of approximately $ 20-30 million (₹139- 208 crores).
Death
Mohammed Rafi died on 31 July 1980 because of a heart attack.
Facts
He learned classical music from Ustad Abdul Wahid Khan, Pandit Jeevan Lal Mattoo, and Feroz Nizami.
Rafi was invited by All India Radio Station to sing in 1941.
Apart from singing in Indian languages, he has also sung in foreign languages such as English, Farsi, Arabic, Sinhalese, Creole and Dutch.
He moved and lived with Hameed Sahab in a rented ten-by-ten feet room in Bhendi Bazar area.
Rafi appeared on the screen for the song "Tera Jalwa Jis Ne Dekha" from the movie "Laila Majnu (1976)" and "Wo Apni Yaad Dilane Ko" from the movie "Jugnu (1973)."
Rafi considered K. L. Saigal as his idol and was influenced by G. M. Durrani. He even followed their singing style during the initial days of his career.
After the assassination of Mahatma Gandhi in 1948, the team of Husanlal Bhagatram-Rajendra Krishnan and Rafi created a song titled, "Suno Suno Ae Duniyawalon, Bapuji Ki Amar Kahaani" overnight. Rafi was then invited by Jawaharlal Nehru, to sing at his house.
His song "Tu Kahin Aas Paas Hai Dost" for the composer Laxmikant-Pyarelal was recorded just hours before his death.
Rafi along with Lata Mangeshkar was voted the most popular playback singer in a poll conducted by Outlook Magazine in 2010. The same survey voted "Man Re Tu Kahe Na (Chitralekha (1964))," as number one song and "Tere Mere Sapne Ab Ek Rang Hai(Guide (1965))," and "Din Dhal Jaye Haye," as the second.
The 'Padma Shri Mohammed Rafi Chowk' in the Bandra suburbs of Mumbai is named after him.
The official biography tilted, 'Mohammed Rafi: Golden Voice of the Silver Screen' was written by Shahid Rafi and Sujata Dev and was launched on his 91st birth anniversary.