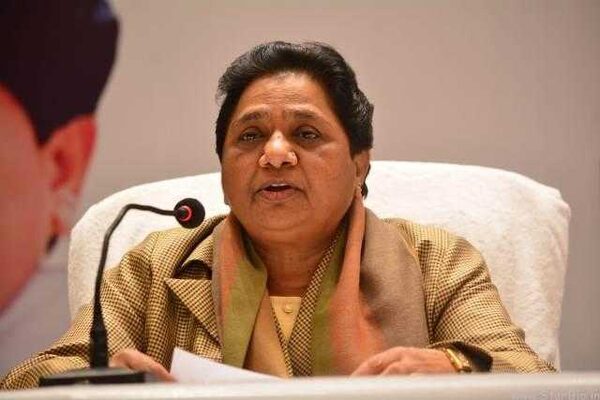 Mayawati is an Indian Politician and the former Chief Minister of Uttar Pradesh. She has been the President of Bahujan Samaj Party (BSP). She has served as the 17th Chief Minister of Uttar Pradesh. She is commonly referred to as Bahen Ji, Kumari Mayawati, and Iron Lady by his followers and well-wishers. She is considered as one of the most powerful female politicians in India.
Wiki/Biography, Caste
Mayawati was born on 15 January 1956 (Age: 63 Years, as in 2019) in a Hindu Scheduled Caste family in New Delhi, India. Her father, Prabhu Das, served as a post office employee at Badalpur, Gautam Buddha Nagar, Uttar Pradesh. She completed her education from the University of Delhi and received her B.A. and L.L.B degrees. She completed her B.Ed from VMLG College, Ghaziabad. After completing her education, she used to teach at Inderpuri JJ Colony, Delhi and preparing for Civil Services Examination as well. An Author, Ajay Bose wrote in his book, Behenji: A Political Biography of Mayawati, that in 1977, the would-be founder of Bahujan Samaj Party, Kanshi Ram, visited her family and told her, "I can make you such a big leader one day that not one but a whole row of IAS officers will line up for your orders."
Physical Appearance
Family
Mayawati was born to Prabhu Das and Ram Rati. She has only one sibling, her brother, Anand Kumar.
She did not marry and remained single throughout her life.
Career
When Kanshi Ram founded BSP in 1984, Mayawati was in his team. In its first election campaign, she was fielded by BSP for the Kairana Lok Sabha seat of Muzaffarnagar district. She received her first victory at the 1989 General Election and became the representative for Bijnor in Lok Sabha. She defeated Mangal Ram Premi of Janata Dal by the margin of 8,879 votes. In 1994, she was elected to the Rajya Sabha for the first time. After the coalition with Samajwadi Party, Mayawati became the Chief Minister of the State for the first time, however, her government lasted for only a short period of time. At the 1996 General Election, she won two constituencies but served as an M.P. for Harora. In 1997, she became the Chief Minister again but for only a short period. Due to the BJP-BSP coalition, she again served as the Chief Minister of the State from 3 May 2002 to 29 August 2003 until BJP withdrew its support.
On 18 September 2003, she was elected the next President of BSP after Kanshi Ram. She became the Chief Minister of the state in 2007 for the fourth time and completed her first full term in 2012.
Controversies
In 2002, her name appeared in Taj Corridor Scam, in which she and a minister in her government, Nasimuddin Siddiqui, were charged with corruption. The total estimated cost of the project was Rs 175 crore. It was alleged that Mayawati embezzled the money dedicated to the project.
She was criticized over her assets rise. In 2003, her assets were worth Rs 1 crore but in 2007, it was worth more than Rs 50 crore and in 2012, it was over Rs 111 crore.
During her tenure as Chief Minister, she became the center of controversy for investing a whopping amount of money for constructing parks, memorials, statues, galleries, etc. Her project was heavily denounced in media and by other political parties for over-expenditure.
Mayawati has also been criticized for the mismanagement of World Bank Fund.
In 2010, she took flak for being wreathed by a garland which was worth more than Rs 22 crore.
WikiLeaks disclosed that when she was the Chief Minister of the State, she sent an empty private jet to get a pair of sandals of the specific brand from Mumbai. This news did the rounds in the media and sparked a huge controversy.
In March 2019, the Supreme Court asked her to clarify the money spent on the elephant's and her sculptures.
On 15 April 2019, the Election Commission banned her for 48 hours for the violation of the Model Code of Conduct (MCC).
Assets/Net Worth
She has Rs 13 crore as deposits in banks, financial institutions, and other companies. She owns jewellery worth more than Rs 1 crore. She owns commercial and residential buildings worth more than Rs 96 crore. Her net worth is around Rs 111 crore.
Favourite Things
Facts
The former Prime Minister of India, P. V. Narasimha Rao, referred her political career as a "miracle of democracy."
She is the first female Scheduled Caste Cheif Minister in India.
Her supporters celebrate her birthday as 'Jan Kalyankari Diwas.'
In 2007-2008, Mayawati paid Rs 26.26 crores as income tax and was listed at number 20 in the list of top 200 taxpayers of that time.
Once she hit out at BJP and RSS that she along with her millions of supporters would convert to Buddhism if they (BJP and RSS) did not change their attitude towards backward classes.
TIME magazine listed Mayawati among India's 15 Most Influential list for 2007.
In 2008, Forbes put her at the 59th place in the list of the 100 most powerful women in the world.
In 2009, an American magazine, Newsweek, described her as the Barack Obama of India.
Her hobbies are reading, writing, etc.
Her nephew, Aakash Anand is being seen as the successor of Mayawati.
To defeat BJP and Congress at the 2019 General Election, Mayawati-led BSP joined the Mahagathbandhan (or Grand Alliance). Other political parties in Mahagathbandhan were Samajwadi Party (SP), Rashtriya Lok Dal (RLD), Lok Insaaf Party, Punjabi Ekta Party, and some others.
She has also written her autobiography, "Mere Sangarshmai Jeevan Evam Bahujan Movement Ka Safarnama."
Here is an Interview of Mayawati.