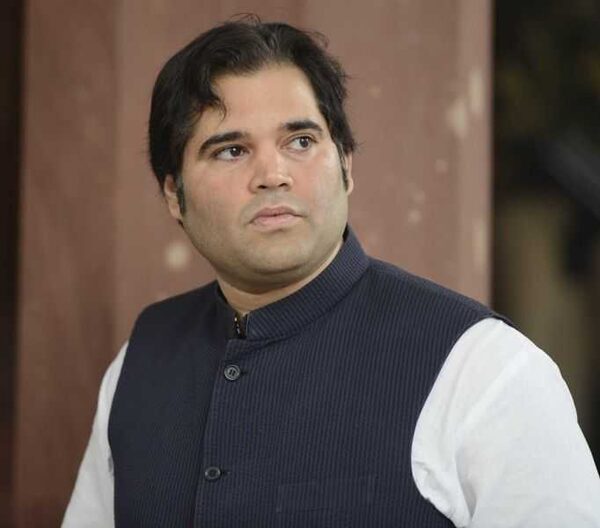 Varun Gandhi is an Indian politician who belongs to the Nehru-Gandhi family. Varun Gandhi is the Member of Parliament from the Sultanpur Constituency.
Wiki/Biography
Varun Gandhi was born as 'Feroze Varun Gandhi' on 13 March 1980 (age 39 years; as in 2019) in Delhi. His zodiac sign is Pisces.
Varun did his schooling from Rishi Valley School, Modern School C.P. New Delhi, and then from the British School, New Delhi. He obtained his BSc in Economic (Hons) from the London School of Economics and Political Science, London, which he earned through distance-learning provision.
Physical Appearance
Height: 5′ 9″
Weight: 75 "
Eye colour: Black
Hair Colour: Black
Family, Caste & Wife
Varun Gandhi belongs to the Nehru-Gandhi family. His father Sanjay Gandhi was a politician.
His mother Maneka Gandhi is an environmentalist and politician.
His grandmother, Late Indira Gandhi (first woman Prime Minister of India) and his grandfather, Feroze Gandhi (journalist) were both politicians.
His great grandfather, Pt. Jawaharlal Nehru was a freedom fighter and the first Prime Minister of Independent India.
His great grandmother, Kamala Nehru was also a freedom fighter.
His uncle, Late Rajiv Gandhi was a politician, and former Prime Minister of India and his wife, Sonia Gandhi is also a politician.
Rahul Gandhi (politician, President of Indian National Congress) and Priyanka Gandhi (politician) are his cousins.
He got married to Yamini Roy Chowdhury, who is a graphic designer, and the couple has a daughter named Anasuya Gandhi.
He had one more daughter named Aadya Priyadarshini, who died at the age of 4 months.
Career
Varun Gandhi formally joined the Bharatiya Janata Party in 2004 along with his mother, Maneka Gandhi. In 2009 General Elections, Varun fought from the Pilibhit constituency. He won by 419,539 votes and defeated his nearest contending candidate, V.M. Singh, by a margin of 281,501 votes. This was the most significant victory by the margin in the Gandhi family. In 2013, Rajnath Singh (politician, Home Minister of India), who was the head of BJP back then, appointed Varun as the General Secretary of the BJP. He became the youngest ever General Secretary of the party. In the 2014 General Elections, Varun contested from Sultanpur constituency and defeated Amrita Singh. In 2019 Lok Sabha Elections, he contested from Pilibhit Constituency.
Literary Works
Varun Gandhi writes articles and policies for the newspapers and magazines like The Times of India, The Hindustan Times, The Economic Times, The Indian Express, The Asian Age, The Hindu, Outlook. He also writes columns for Malayala Manorama, Lokmat, Hindustan Times, Rajasthan Patrika, Punjab Kesari, Amar Ujala, Sandesh, Bartaman, Sakshi and many other.
Varun wrote his first volume of poems, 'The Otherness of Self' in 2000.
In 2018, he released his book on Indian rural economy titled"A Rural Manifesto: Realizing India's Future Through Her Villages."
Politics
He is a member of Bharatiya Janata Party (BJP) since 2004.
Controversies
During his election campaign in Pilibhit, in 2019 Lok Sabha Elections, he made a provocative sentence against Muslims. A case was filed against him. He was arrested and had to stay behind bars for 20 days.
In 2009, he appealed Allahabad High Court to nullify the case against him for his provocative speech in Pilibhit. In his petition, he wrote that he was a graduate from LSE (London School of Economics and Political Science) and did his masters from SOAS (School of Oriental and African Studies). But the university denied his claim of any such degree and clarified that earned his degree (BSc in Economic) in LSE through the long-distance provision, and he only enrolled for SOAS (MSc in Sociology) but never completed the degree.
On March 29 2009, Uttar Pradesh booked Varun Gandhi under National Security Act for inciting communal tension in India.
In 2015, former IPL chief Lalit Modi said that Varun Gandhi met him in London a few years ago and asked him to settle everything with the former Congress chief Sonia Gandhi. He even asked Varun to clarify whether he has been in his house or not. Sonia Gandhi had to come forward to deny his allegations.
In 2016, Abhishek Verma alleged that Varun Gandhi leaked defence secrets to arms dealer Abhishek Verma and arms manufacturer. However, he denied the allegations saying that the information provided by Verma did not prove that he had access to or shared any information to him.
Net Worth
His net worth is approximately ₹15 Crores.
Favourite Things
Author: Ruben Banerjee, Rana Safvi
Book: The Nobel Lecture by Bob Dylan, Naveen Patnaik by Ruben Banerjee, City Of My Heart by Rana Safvi, Laxminama: Monks, Merchants, Money and Mantra by Anshuman Tiwari, Mumbai Fables by Gyan Prakash
Facts
Varun's father, Sanjay Gandhi died in a plane crash when he was three months old.
Varun was introduced to politics by his mother during 1999 elections campaigning.
His second volume of poems, titled "Stillness" was published by HarperCollins in April 2015. The book became the bestselling non-fiction book, selling over 10,000 copies in the first two days of its release. 
In 2011, Varun offered his official residence to Anna Hazare to hold his fast but was denied by the government. When Anna was jailed, Varun offered to table the Jan Lokpal Bill in the government and went to Ramleela Maidan to support the cause of Anna Hazare becoming the first Indian Politician to support Anti-corruption cause openly.
In 2011, his daughter Aadya Priyadarshini, who he named after his grandmother Indira Priyadarshini died at the age of 4 months. Reportedly, the incident traumatised Varun to the extent that he took a break from politics for almost two months.
He started a company called 'Rajdhani,' which is an analytics company for commodity training.
In 2015, he vowed that he would donate the MP salary to the family of those farmers who have been forced to end their lived because of agrarian crisis.